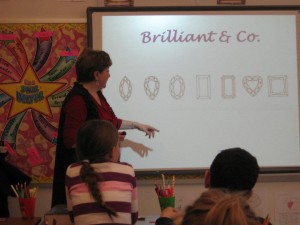 A diamond is the most valuable gem on earth and yet, it is made out of the same mineral as the graphite in a pencil…carbon.  This interesting fact along with several others were offered earlier this month for third grade students at the Whitehouse School in Readington and the Hunterdon Care Center in Flemington. The presentation appeals to all ages and is currently being offered as part of a community outreach program by Roman Jewelers.  
Sophie Shor, Vice President of Roman Jewelers, presented the information. "No matter your age, everyone is fascinated by the science of diamonds. Not only did they learn about where diamonds come from and the chemical composition of a diamond, but it was invigorating to watch everyone's eyes light up as I showed them how light travels through a diamond.  They couldn't wait to hear more about one of the most precious things on our earth."
"For the older folks, every diamond has a story and a memory. What better way to engage an audience then with a story that they can connect to, but also learn from," Shor says.
The jeweler also provides a presentation on Fabergé Eggs, which ties in to the Shor's family story. Like Fabergé, the Shor family has been making jewelry for many generations, both here in the United States and in Russia. "This presentation captivates audiences–not only because of the rich history behind the eggs, but also because of the information about the detail and creation of the art," says Shor.
The program offered by Roman Jewelers is an effort to provide the community with the opportunity to learn first-hand about the professionals in the jewelry business and the vast information they possess.  It can be adapted for students of all ages or adults.  Anyone interested in having the program presented in their school or organization can contact program coordinator Lauren Baker, who will also be helping with the presentations at 908-782-8240.
Roman Jewelers is a family owned and operated store with locations in Flemington and the Bridgewater Commons Shopping Mall in Bridgewater. Roman Jewelers specializes in custom jewelry design, fine jewelry including diamond and bridal jewelry and offers a wide selection of Swiss watches. For more information, call 908-782-8240 or visit www.romanjewelers.com