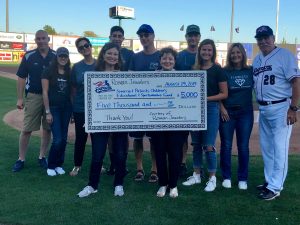 On Thursday, August 29th, Roman Jewelers celebrated their 30th Anniversary at the Somerset Patriots Ballpark in the best way possible—with the community. In honor of their anniversary, the owners, Roman and Sophie Shor and their daughter, Lucy Zimmerman also made a $5,000 donation to the Somerset Patriots Children's Educational & Sportsmanship Fund from Roman Jewelers.
Their longevity of Roman Jewelers is due to their dedication to providing exemplary customer care and services, including custom jewelry design. Roman Jewelers also prides themselves in carrying only the finest selections of diamonds and jewelry brands, including Rolex watches.
Roman Jeweler's business began in 1980 when the family immigrated from the former Soviet Union. Roman worked from his basement as a bench jeweler until 1989, when his hard work paid off and he was able to open the first store in Flemington. The business later expanded to the Bridgewater Commons Mall, where they were located for 17 years.
Currently located at 500 Commons way in Bridgewater, the business is managed by 4th generation jeweler, Lucy Zimmerman. And, while the family keeps busy running their store, they have always made an effort to give back to the community that has, as Mrs. Zimmerman says,"…graciously given us so much." In this spirit and to celebrate their 30th Anniversary, Roman Jewelers also sponsored the Somerset Patriots 2019 Bat Kid program with the Somerset Patriots and had the wonderful opportunity to meet so many local kids and families.
The Shor and Zimmerman family is proud of their business and proud of their community. It stems from the gratitude the young immigrant family felt when they met a community that embraced them and provided the freedom they longed for. "Thank you to all for 30 wonderful years…we look forward to many more and hope to continue to support our local charities and spread the message of generosity and positivity" said Mrs. Zimmerman. Click for more information about the Somerset Patriots Children's Educational and sportsmanship Foundation.