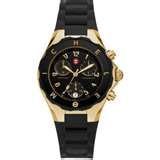 There is so much going on at Roman Jewelers this Summer, including the addition of Honora to our collection, the Michele watch contest and the upcoming Trade Up and Refashion Diamond Event. Summer will be hot, hot, hot in Central Jersey.
For over 60 years, Honora has stood for value and quality in the jewelry industry. Today Honora specializes in bringing the very best in Freshwater Pearls since they arrived on the market over 20 years ago. Honora is the largest importer of fine Freshwater Pearls in the United States and uses these astounding cultured pearls to create colorful and affordable pearl jewelry. Pearls in all different shapes, sizes and colors make Honora pearls a fashion-forward and fun gift for ladies of all ages. There is also a young girl collection that is SO CUTE!
Michele watches are fun for Summer and so is our contest to celebrate the launch of Michele in Bridgewater! Come into any Roman jewelers during July and "try on" any Michele watch for a chance to win a Michele Tahitian Jellybean. Whether you like to switch out straps or not, Michele watches are fashionable and functional for Summer beyond.
Trade Up & Refashioning has been something customers have been askin for for years! We are listening! During our August 20  & 21st event, customers can bring in their diamonds and cash them in for an upgrade. If they want to keep their dismond and just update/refashion their setting, that works, too. Special savings at this event only!
Stop by Roman Jewelers soon to learn more, see more, and try on more this Summer. We look forward to seeing you.