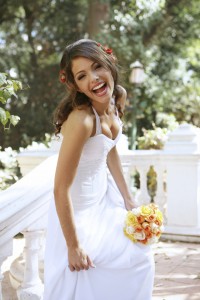 After weeks of aniticipation and planning, the auditions for the Roman Jewelers Wedding are upon us. This Saturday, engaged couples from New Jersey (and PA, too) will be descending upon the Villa at Mountain Lakes in Mountain Lakes, NJ.  The auditions start at 9 a.m and will end at 2:30. There is still time to register online at http://weddings.romanjewelers.com/. You can also stop by and register right on site.
The Roman Jewelers Wedding will also offer attendees exclusive tips, demos, and more from our Romantic Partners during our "Meet the Expert" presentations. At 10:00 a.m. Donna Morello will talk wedding gowns.  Dieci Lifestyle Spa, will cover "Bridal Makeup" and at 11:30, Graig Scott Entertainment will provide tips on planning you wedding day music. Sphericality will demo "Ballroom Dancing" and at 12:30, Allyson Quaglia from Roman Jewelers will answer any and all questions concerning your bridal jewelry fashions.
Later in the afternoon, presentations will be made by The Villa at Mountain Lakes (1PM), Absolute Media Productions, (1:15 pm) and Opulent Events (1:45 pm) .  Information about our charitable partners will be available all day and so will the food and beverages courtesy of Frungillo Caterers.
By 2:30 pm, the Roman Jewelers Wedding twenty semi-finalist couples will be announced. Good luck to all!