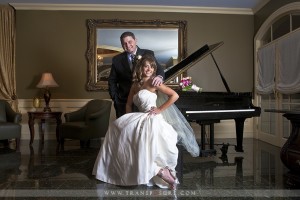 Do-gooders say, "I do."
Congratulations to James & Marah Silvestri!
This past week, the winners of the Roman Jewelers' Wedding were married. After raising more than $20,000 for Special Olympics New Jersey and winning the charity contest last fall, the couple celebrated their nuptiuals at the Villa at Mountain Lakes, in Mountain Lakes, NJ courtesy of Frungillo Catering.
Guests danced the night away to the musical entertainment of Craig Scott Entertainment, which also included a Micheal Jackson impersonator who had the guests entertained as well as amazed.
In addition to the contest sponsorship and wedding rings donated by Roman Jewelers of Flemington & Bridgewater, the generous donations of all the Romantic Partners were noted and admired by all the guests.  The flowers were perfectly suited for the venue and atmosphere, Marah looked ravishing in her dress by Donna Morello and their video preview has already gone viral. The couple was gracious and took time out of the festivities to thank Roman & Sophie Shor, owners of Roman Jewelers. The groom commented that without the Roman Jewelers Wedding contest, the wedding (especially on the short timeline) never would have been possible.
According to Sophie Shor, owner of Roman Jewelers, "The Romantic partners are the businesses that care about our communities. I'm not going to be shy about telling everyone I know to shop at their establishments. They are charitable businesses with only the finest products."
The couple generously made a donation to Special Olympics NJ in honor of each guest, as well, and mentioned several times how their work with the charity changed their lives forever.
The Romantic Partners who graciously donated their services and made this magical evening possible are: