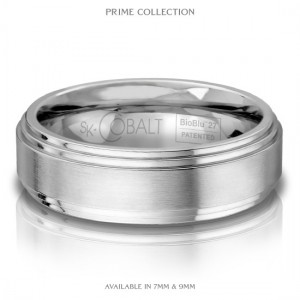 Next week, Roman Jewelers will be adding the SK Cobalt collection of men's wedding bands to their collection.  Scott Kay, creator of the line calls cobalt, "The most superior contemporary metal known to man" and according to his company, the cobalt used in creating the rings, BioBlu 27, is by far the most sophisticated, safe, white, hypoallergenic, 100% solid, scratch-resistant and luxurious cobalt alloy in the world. SK Cobalt jewelry and cobalt bands evoke strength, masculinity, and personal style.
Dana Venezia, Flemington's assistant store manager agrees, saying, "I love it, and I think our customers are going to love it because it is an amazing alternative to gold, platinum or palladium at a friendly price point. It is made in the USA, which makes me proud to sell it," she adds.
BioBlu™ 27 while having been used in the past, for the production of, finely crafted surgical tools is now being used for the first time, in the crafting of cobalt jewelry. SK Cobalt is proudly created, engineered, and designed into the finest cobalt bands in the United States of America. The SK Cobalt Collection of wedding bands is representative of Strength, Beauty and of Love that cannot be tarnished. Throughout time women have passed down their wedding rings, as family heirlooms, from generation to generation, passing them from mother to son to new daughter-in-law and on, with pride. The SK Cobalt Collection of wedding bands is designed to start a new tradition of heirlooms. SK Cobalt wedding rings will be passed from Father to Son to Grandson, from generation to generation, with pride.
The SK Cobalt wedding band collection is made up of eight styles, each representative of different qualities that are found in a Groom to be:
Troy Collection – Strenght, Courage, Battles fought for Love
Braid Collection – Strong Bonds, Lives Intertwined, Strength of Love
Prime Collection – Pride, Love, Strength
Unity Collection –Dependable, Steady, Lasting
Century Collection –Lasting Love, Trust
Devout Collection –Commitment, Enthusiasm, Devotioon
Code Collection – Belief, Principle, Values
Native Collection –Strength of Character, Natural Love
Learn more about SK Cobalt at http://www.scottkay.com/skcobalt/cobaltjewelry.html or at Roman Jewelers in Flemington, NJ.