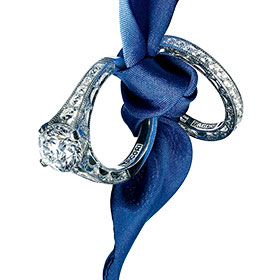 Tacori. Classic and beautiful. Bridal Collection at Roman Jewelers We are excited to see Tacori everywhere this season. From the red carpet to web and beyond, the brand is blooming even before the flowers !  Brides in Flemington & Bridgewater, NJ have been sizing up, too, in preparation for Spring nuptials and we have celebrated Anniversaries galore this year Married couples ring of choice: Tacori, of course. Read on for more from Tacori.... Let's start at the "Tacori Vault"!  The radiantly gorgeous
Kate Beckinsale
walked the Oscars Red Carpet in One-of-a-Kind platinum + diamond hexagonal earrings, making "Best Dressed" lists all over the web…. including:
WhoWhatWearDaily
,
FabSugar
, and
JustJared
. Speaking of celebrity style, Hollywood reality star couple
Tori
Spelling
and
Dean McDermott
exchanged the ultimate Valentine's day gifts from TACORI.  Tori picked out an 18k Rose Gold men's band for Dean w/ a satin finish and eternity crescent design - engraved with "
Tori Tori Tori
" all around the band… so romantic!  Dean choose an 18k Yellow Gold & diamond heart pendant for Tori…  a perfect addition to her collection of TACORI jewels! And if you ask
Martha Stewart Weddings
, Tori & Dean do have great style!  MSW suggests matching TACORI bands for the Bride and Groom, featuring a similar styles to Dean's rose gold crescent band for the Gent, and a matching eternity crescent band for the Bride… make it a Tacori Couple! TACORI also brought color to the pages of
Brides Magazine
with a pair of 18k925 pear-shaped gemstone earrings, and a "Kate Middleton inspired" Oval-cut sapphire ring in
Bridal Guide
to channel your inner princess. And for some Valentine's fun – TACORI launched the '
Mating
Game
' – a cheeky and playful twist on the iconic 'dating game' format, designed to help bachelors and bachelorettes find their perfect mate, as well as the TACORI engagement ring of their dreams.  If you haven't played it yet, spend just 5 min at the link here.  
http://tacori.com/matinggame
  We promise you'll have fun! To see the latest in Tacori bridal and 18k925 jewelry, come to Roman Jewelers in Flemington or Bridgewater, NJ and thank you to TACORI for the news!