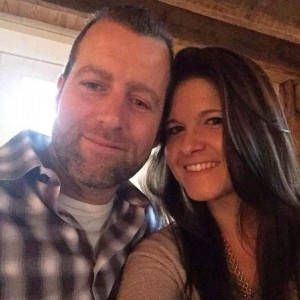 John and Sarah first met when Sarah walked into John's Motorcycle Dealership on Main Street in Lebanon back in December of 2013. Unbeknownst to Sarah, John told his brother and staff that day he was determined to find out who she was when she left, but he didn't know her name or anything about her.
Later that spring, every evening after work, Sarah would walk her dogs down Main Street as John would be closing up his shop. Day after day, for several months, they would catch each other's eye but never speak. Over time they would wave to one another, then say hello, and eventually have small talk in the street. It became obvious to everyone else that they were interested in one another – each always looking for one another, but being too shy to make a move toward actually going on a date. Finally in July of 2014, John asked Sarah out – she said yes – and they were virtually inseparable from then on.
Almost immediately after they began dating John knew Sarah was the one. The two welcomed their beautiful daughter, Madeline, into the world on December 8th, 2015, and John knew that he wanted to incorporate her into the proposal. So when the couple decided to have a nice quiet Christmas Eve at home with their newborn, John knew it would be the perfect moment. That evening, John put the ring in the next clean diaper in the changing area. Of course, Madeline decided that she didn't need a diaper change for hours – keeping John anxiously waiting! Finally, the moment of truth was upon them. Sarah got up to change Madeline and saw the beautiful ring as she opened the diaper.
John proposed to Sarah with a very special ring. It was a family heirloom, one of his late mother's prized pieces of jewelry. John knew it would have meant a lot for his mother to know it was going to someone like Sarah. Roman Jewelers repaired the ring after John & Sarah became engaged and replaced the prongs holding the large center diamond. John and Sarah's wedding bands were both purchased at Roman Jewelers in Bridgewater. John's wedding band is a custom made white and rose gold Simon G band. Sarah's band is a 18k white gold, .5 carat three-sided diamond band.
Sarah had John's wedding band engraved with "Ti cercerr per sempre 3.19.16" which is Italian for 'I will always look for you', in reference to how the couple first met. Back in those early days when Sarah would run home from work to walk the dogs in hopes to see John, and John would stand outside his shop waiting for Sarah to pass by.
What a truly romantic #GreatEngagement story! Congratulations, Sarah and John!
Have a family heirloom you want to repair or redesign? Let Roman Jewelers help you make it the perfect ring.