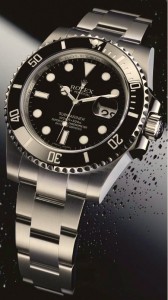 The news has hit Flemington, and it comes just in time!
A little more than two months ago, journalists, buyers and representatives from the world's finest watch companies descended upon Baselworld to share, review and unveil the latest developments and innovations in watch technology and design. The show, which also includes jewelry, is held every spring and attendees anxiously wait for the big announcements. While we may never really need a watch to wear on the moon or to dive where no man could, watches are reviewed and revered for how well they perform under these conditions and only the top make the news at Basel.
The new Rolex Submariner is one of those watches.  The Rolex Oyster Perpetual Submariner was design for diving and and was introduced to the public in 1954 at Basel. It has been copied by other watch makers ever since. The Rolex Submariner is recognized as a classic]and one of the most widely recognized luxury products in the world. The Submariner is part of Rolex's Oyster Perpetual Professional line. It has been pa withstand the depths of 1000 feet, not to mention that it has appeared in eleven James Bond movies 🙂
So, the news from Basel has reached our customers in New Jersey. The calls are coming in and so are our Submariners. By the end of the month, we expect they will arrive and we invite everyone to come in and find out from our experienced sales staff why they are unlike any other professional watch out there.
Here is a glimpse at what is new in the Submariner:
It is a new steel version, which is the most popular and lowest cost option.
It comes with a green dial, which is usually saved for special models.
It has the new "maxi dial" with larger hands and hour indicators.
It has a ceramic bezel called the "Cerachrom." It is beautiful and most experts will tell you that Rolex probably does this better than anyone else.
It includes the famous Rolex Glide-lock clasp previously not available on this model. This gives the bracelet clasp a special micro-adjust ability that gives it a very precise fit that you can adjust as much as you'd like.
If you like how this all sounds, come in and see any of our watch experts at Roman Jewelers. Gina is extremely knowledgeable and will answer any and all questions you may have. See the watch online at
http://www.rolex.com/en#/rolex-watches/submariner/introduction/