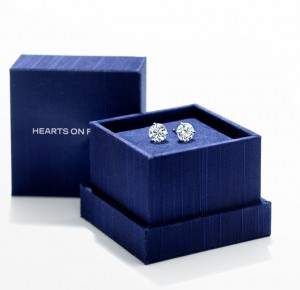 Hearts on Fire brands itself as the "World's Most Perfectly Cut Diamond."  But what does this really mean?
It means Hearts on Fire takes time to find the the very best diamond that the world has to offer and that they use the highest manufacturing standards and a diamond cutting process that ensures the most sparkle.  They also promise an ethically sourced and properly certified diamond.
A Hearts On Fire diamond truly does sparkle. It's  performance is simply unseen in other diamonds. Here's why:
Hearts on Fire starts with less than 1/10th of 1% of the world's natural rough diamonds. Then, due to a unique and exclusive high-quality cut by the Hearts On Fire diamond-cutting experts, a Hearts On Fire diamond displays a perfection you can actually see with your own eyes.
A perfect ring of eight hearts on the bottom and a perfectly formed, symmetrical Fireburst® on the top is created. And, as a result, as light enters the diamond, it descends downward into the pavillion. A standard diamond with an inferior cut leaks light from the bottom and sides. Too deep or too shallow a cut, and the light that gives a diamond its brilliance is lost. However, because of its perfectly symmetrical cut and increased surface area, a Hearts On Fire diamond captures that light and reflects it from the top, creating maximum brilliance and fire.
The Hearts on Fire skilled craftsmen uphold the highest quality of diamond creation, leveraging cutting-edge anti-vibration technology and a scientific diamond-cutting formula that is unknown to anyone else in the world.  In addition, while most manufacturers use a 10X magnification process, Hearts On Fire artisans craft the diamonds at 100X magnification, using unique imaging software that results in a perfect mirror polish. That's 10 times the global industry standard.
Hearts on Fire also maintains the highest level of polish. When a diamond has perfect proportions, perfect symmetry, perfect alignment and perfect polish, a natural phenomenon of light is created. This unique and extremely rare display of sparkle is the easiest way to differentiate a Hearts On Fire diamond.
See the Hearts on Fire difference for yourself, this Saturday at Roman Jewelers.
Read more at www.heartsonfire.com/about/hearts-on-fire-difference/our-promise.aspx#aHt55KClc2xIoQVe.99