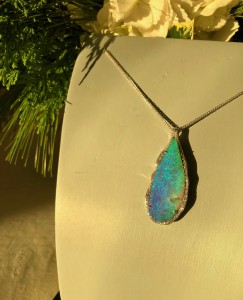 "Simon G is our customer's favorite designer," is something we say this every year around the holidays, and this year's Simon G. Show confirmed in once again! At our most successful show yet, we asked customers why they love Simon G…the answers are not surprising–they are the same reasons our staff and jewelers all over the world love the line–Quality, Price Point and Design.  If you missed the show, do not fret…our collection of Simon G. Jewelry is extensive and there is still time to find the perfect gift.
This year, the Simon G. trunk had a few very special and rare pieces, including a Blue Sapphire from Sri Lanka, hand picked by Simon himself and a boulder Opal from Australia that bursted with color and warmed up the room. Stunning diamond tennis necklaces were on display, showing that when it comes to diamonds, Simon G., takes things very seriously.  In fact, when Simon G. creates pieces for his collection, his hope is that each piece becomes a family heirloom. His passion for diamonds has made him the leading designer in bridal and fashion jewelry for more than 25 years.
Lucy Zimmerman, Co-owner of Roman Jewelers says, "We are thrilled to be on Simon G's calendar this time every year and grateful for the support of our loyal customer's that return every year. We expect that we added a few new fans this year, too."
Roman Jewelers has extended holiday hours starting this Saturday, December 15th. The store will be open from 10 am – 8 pm through December 21st and 9 am – 8 pm December 22 and 23. Last minute gifts can be found on Christmas Eve, too when Roman Jewelers is open from 9 am – 4 pm.