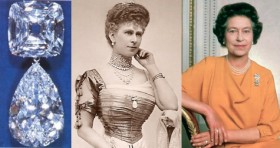 With the Royal Wedding just days away, the Jewelry Information Center has been keeping the public interested in all things "Royal" and "Jeweled." Royal Families have always understood the importance of jewelry as heirlooms. Here are two of the JIC's (and our) favorite heirlooms of the British Monarchy.
Queen Elizabeth affectionately christened the diamonds in the pictured brooch "Granny's Chips" because they were originally owned by her grandmother Queen Mary. The "chips" are two large, beautiful diamonds: a 94.4-carat pear-cut stone and a 63.60-carat square-cushion cut diamond. Wouldn't we all like to have heirlooms that size?
CAMBRIDGE LOVERS KNOT TIARA
The Cambridge Lovers Knot tiara — so named because of the Lovers Knots bows incorporated into the design — was an appropriate gift from Queen Elizabeth to Princess Diana on her wedding day. Its origin dates back to 1914, when Queen Mary commissioned the crown jeweler Garrard to create a copy of a tiara owned by her maternal grandmother, Princess Augusta of Hesse-Cassel. Will Kate wear this?