With Summer weddings in full swing and Fall Weddings on the horizon, now is the best time to buy your wedding bands. Here are a few things every couple will want to consider:
How to decide on a wedding band?
Usually, couples start with a certain style in mind. Simple or a bit of sparkle? What metal works (or is the most practical) and is matching important? One step at a time is our advice and working with Roman Jewelers will help you to decide on exactly what metals, gemstones and styles compliment you both! Our collection of wedding bands one of the largest in New Jersey and we are currently running our BOGO Wedding Ring Promo.
Find out more https://www.romanjewelers.com/blog/annual-buy-one-get-one-wedding-ring-event-june-22-29/
You might have different tastes
There are really no rules if you like white gold and he likes yellow, or your individual styles don't match. It's personal and you both have to be happy — or you can compromise. We recently met a couple that threw both of their preferences out the window and compromised on something totally different than what they thought, and was more unique.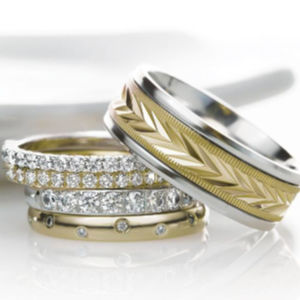 Custom Design is a great option
It's always romantic to design your own ring and it is also fun. Sometimes, if you are looking for the perfect match or a wedding band that fits just the way you want, custom may be the only choice that will make you happy. The cost might be surprisingly less than you think.
Purchasing your engagement ring and bands at the same time.
A surprise is always a fun and romantic way to propose, but it isn't for every couple. The benefit to purchasing the engagement ring and wedding bands at the same time is getting the perfect look or fit set before all the distractions of the wedding planning begin. Also, if you are choosing a custom designed wedding band, this will allow more than enough time to do so.
Your Lifestyle is something to keep in Mind
What is it you do everyday? You are going to want to wear your ring everyday. For some, that is easier than others. Often, men go for comfort, especially if they work with their hands everyday. Often, durability is an issue. Platinum works best if that is a concern.
Are you a classic, long term romantic?
If your plan is to wear your bands forever you may want to stay away from a more trendy design. But, in our experiences, many couples do celebrate their anniversaries at some point with a new band or a change to the design or addition of embellishments, like diamonds. It is really up to the couple but something we always ask.
Sizing and Maintenance of your rings
Working with Roman Jewelers makes this part easy. We will size your rings and ask all the right questions. We will work with you until the ring fits just as you wish. Sometimes, this means adding metal to the ring's inside shank. Couples also need to keep the seasons in mind. Sometimes, fingers swell in Summer. We will also clean and polish your engagement ring before the wedding, and encourage our couples to come in regularly to check their rings and have them cleaned.
We love….Love! And welcome you to make an appointment to discuss all of your ring needs with our staff. Happy Wedding. https://www.romanjewelers.com/make-an-appointment.html