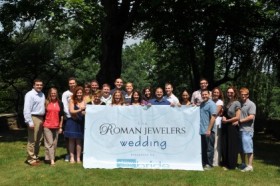 Ten couples were chosen last week as finalists in the Roman Jewelers Wedding contest, presented by NJ Bride. The contest, sponsored by Roman Jewelers of Flemington and Bridgewater will award a free wedding to the couple who conducts the most successful fundraiser for a charity.
The winners were announced at a brunch at the Skylands Manor in Ringwood, NJ after being interviewed the day before by judges Sophie Shor and Lucy Zimmerman from Roman Jewelers and Kate Hartford of Cecilian Worldwide in Flemington.
"Without a doubt, these couples were chosen because they all were excited, in love, and most importantly determined and capable to make a positive impact for their charity. They will all do well," said Sophie Shor, co-owner of Roman Jewelers. "Even those who do not have fundraising experience are looking forward to doing something meaningful together before they get married. This isn't an easy contest…you really do have to do something significant before you win. But the payback is incredible."
The winner of the contest will receive a free luxury wedding including a reception for 200 guests at The Villa at Mountain Lakes, diamond wedding bands from Roman Jewelers, a wedding gown from Donna Morello Wedding Gowns, entertainment by Craig Scott, floral arrangements by Conroy's Creations, photography by Transposure Fine Art Photography and Invitations by Occasions. Videography, luxury transportation, skin care and exercise packages, hair and makeup, tuxedos, and a Hawaii honeymoon at the Hilton Waikoloa Village are also part of the package.
The next step in the contest is for the ten finalists to present their ideas in 'good deed plans' on August 2nd at an event at Sphericality in Flemington. The couple who then implements their plan the most successfully will win the contest.
Many of the finalists have already worked with charities, from running in 5Ks to volunteering at hospitals, and with local and national charities like Special Olympics, March of Dimes, and food banks. Matt Kleinhans, 25, of Clinton was involved with the Hunterdon United Way and volunteers locally with his church. His fiancée, Gina Marie Mattei, 25, of Hillsborough has volunteered at the Adult Day Care Center in Finderne, for nearly 12 years.
One of the couples, Caroline Burghard, 26,  and Karl Erikson, 32, both of Branchburg Township, shared their love story, explaining how their impending wedding was predicted by a fortune teller during a date at a Greek Festival. "At the time, I did not put too much into it," Caroline said. But after the couple lost touch for many years and then coincidentally met up again, it seemed as though the fortuneteller may have been right, the couple explained.
Kara Horner, 26, of Lambertville joked that the first guy that came "all the way to Lambertville" to take her on a date would be "the one." Then Adam Bottino, 26, did just that! Furthermore, the engaged couple now calls Lambertville home.
Other finalists are: Samantha Holtz, 24, and Matthew West, 27, of Bernardsville; Lisa Zolnowski, 36, of  Flemington and John Sansone, 37, of Toms River; Michael Aschettino, 26,  and Jennifer Janosko, 29, of South River; Alexander Barthalis, 28, and Ann Marie Florek, 25, of North Brunswick and Manville, respectively; Lisa Rice, 28, and Patrick Cashin, 29, of Perth Amboy; Clelia Alfano, 26, and Brandon Pergola, 29, of Totowa and Jimmy Silvestri, 34, and Marah Winkler, 33, of Forked River.
 For information on which couples will be working with which charities, please see Roman Jewelers website at www.romanjewelers.com