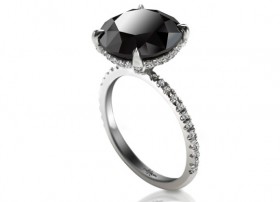 Warning! Sex and the City 2 Jewelry Spoiler following… 
We've been watching Carrie Bradshaw's jewelry style for many years. In Sex and the City 2, when Big captures her heart in a final scene of the film, he presents the NYC diva with an eye-popping 5 carat black diamond ring and tells her "because you are not like anyone else." This is where movie-goers reach for the tissues.  But, who could take their eyes off that rock?! The buzz is already swirling about the scene with what is arguably the most significant piece of jewelry in the movie's entirety: a 5 carat black diamond ring set in 18K white gold surrounded by 80 round natural white pave diamonds equaling 0.35 carats by designer Itay Malkin. 
Will this ring fuel a black diamond trend? Let's hope so. Black diamonds, particularly when set with contrasting white diamonds have already become a popular, beautiful trend.  And black diamonds are certainly a conversation starter. But what are they?  
Black diamonds are typically enhanced diamonds. We hear a lot about enhancements of diamonds, often in a negative way, but the case of the black diamond is quite different. The black color in a natural black diamond is actually the result of numerous inclusions. Most of these inclusions are graphite and because there are so many, black diamonds fracture very easily. This makes them very difficult to cut, polish and finish. So, in order to work with them and show off their beautiful black opaque color, the genuine black diamond is treated, to create a better quality diamond with a more uniform color. 
 Black diamonds are still diamonds…they are graded for clarity, cut, color and carat weight and certainly make for a unique engagement ring, especially when set with contrasting white diamonds—as shown in Carrie's ring. Black diamonds generally cost less than white diamonds and are an elegant gem with a rich look. Black diamond jewelry is available at Roman Jewelers in Flemington & Bridgewater NJ. www.romanjewelers.com