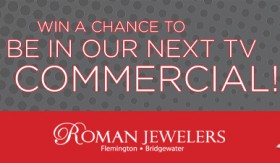 Roman Jewelers will host Facebook contest to award 15 customers with romantically-challenged significant others the chance to win a speaking role in the 2011 holiday television commercial
Although the holiday season may seem far away, Roman Jewelers, New Jersey's premier fine jeweler, is jump-starting the shopping season by searching for customers who have not always gotten what they wanted in the past.
This holiday season, Roman Jewelers will give 15 local residents, who do not have romantically-inclined significant others, the chance to let their loved ones know what they want for the holiday season – jewelry from Roman Jewelers.
Roman Jewelers will host a Facebook contest to give these 15 people the chance to land a speaking role in the 2011 holiday television commercial where they will tell their loved one what they want from Roman Jewelers.
"We designed this contest for local residents who have tried for years to give subtle hints that jewelry is what they want, only to open their holiday present and be disappointed," said Allyson Quaglia, Director of Sales at Roman Jewelers. "For the 15 people we select, we believe the chances of their significant other misreading their holiday wishes will be slim to none after seeing them on television saying exactly what they want."
The contest will be hosted on Roman Jewelers' official Facebook page, http://www.facebook.com/RomanJewelers#!/RomanJewelers?sk=app_95936962634, where contestants will be asked to explain why they think they should win a part in the holiday commercial. The 15 winners will also receive a Roman Jewelers prize pack valued at more than $250. This prize pack includes a $100 Roman Jewelers gift certificate, a pair of pearl stud earrings and jewelry cleaner.
 The Facebook contest began on Monday, Aug. 22 and ends on Friday, Sept. 23. For more information, please visit http://www.facebook.com/RomanJewelers and click the "Contest" tab on the left. Winners will be selected the week following Sept. 23, and filming will begin in October.