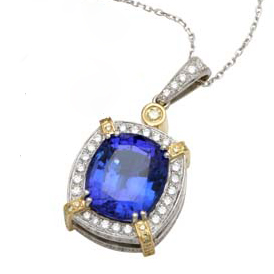 Would you like to own an heirloom gemstone? If so, Tanzanite may be just the stone. Tanzanite can be bought today, but it is only going to be unearthed from the ground for the next 10 to 15 more years. Beyond our generation, the stone will have to be inherited or bought at auctions. This makes it a perfect choice for a custom designed heirloom piece.
Tanzanite is found only in one place on earth, the foothills of Mount Kilimanjaro in Tanzania. A rare stone, with an exquisite mix of purple, blue, and violet hues, the stone is breathtaking. The strong blue and strong blue /violet colors of tanzanite are combined with red flashes that are radiated from within of the gemstone, making it simply irresistible. Tanzanite gemstones range in color from dark royal blue to lighter shades of periwinkle.
Although tanzanite was formed some 585 million years ago, it was not "discovered" until 1967.  Today, this gemstone equally appeals to gemstone collectors and to consumers looking for a custom designed piece that is rare and unique.
Our Roman Jewelers custom jewelry designers call tanzanite a dream-stone. The color of tanzanite goes well with platinum, as well as white and yellow gold. It is also a color that matches all the skin tones.
You cannot make a mistake buying a tanzanite; a beautiful, brilliant, and rare gemstone.  and if you own one and would like to set it in a beautuful one-of-a-kind mounting, we'll be happy to design it for you. You will wear and enjoy it for many years to come, and then will be proud to pass it to the next generation.