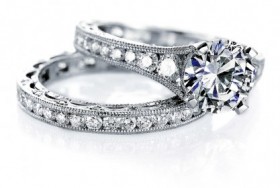 You've been dreaming about this moment forever and now you are sure. You know it is coming. You just don't know when.  You can feel it.
Of course I am talking about a marriage proposal and an engagement ring. You hope your fiancé'-to-be will come up with a memorable romantic way to pop the question.  And you also hope the diamond will be set into a Tacori setting.
There is something truly magical about Tacori rings. Delicate, yet sophisticated; with Victorian style and old-fashion flavor, yet modern.   The scallops, scrolling, and millwork on the shank of the ring are the trademarks of the Tacori style.
The Tacori rings are handcrafted. Yes, every piece. You can even notice some slight variances from one ring to the next as each piece is custom-made.  Because each piece is handcrafted, when you order a ring from Tacori, it usually takes four weeks to make. What is also wonderful about Tacori rings is that because of custom-nature of their pieces, they will make the ring to fit any shape and size of the center stone.
Most of Tacori engagement rings and wedding bands are made in platinum.  18K yellow gold is used only as details to enhance the design of the piece.  What about the diamonds used by Tacori? These are also of very high quality; no lower than G in color and VS1-VS2 in clarity. No wonder the diamonds are so brilliant and create irresistible stunning pieces.
Have you seen the latest that Tacori has to offer? To get a flavor of the Tacori styles, https://www.romanjewelers.com/Default.aspx?id=51. Or you can see the entire collection on the Tacori web site http://www.tacori.com/