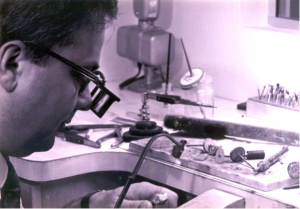 If beautiful jewelry is the heart of Roman Jewelers, our Jewelry Repair Shop is its soul.
Here at Roman Jewelers, we pride ourselves in having a repair shop that is fully equipped with state-of-the art tools to handle every jewelry repair need. We use only the finest and newest equipment in repairing your jewelry.

Roman always strives for using the latest and the greatest equipment for the shop. Here is what he says about using new laser welding technology for jewelry repair, "I was reluctant to use the new laser welding technology when it first became available. You know, I am somewhat of an old-school jeweler. I was trained to repair and solder jewelry with a torch. But now, I embrace the laser technology. It allows me greater precision than the traditional soldering. I can now work on more complicated jewelry repairs than I was able to before. Learning to use it wasn't easy, but it was well worth the results. The laser soldering technique allows me to do extremely complicated jewelry repair work that I was not able to do prior, like repairing certain types of jewelry and restoring antique jewelry pieces."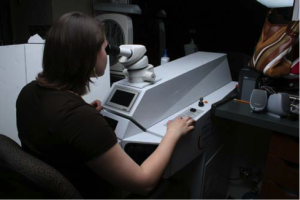 But it is not merely the equipment that makes our jewelry repair shop stand out from the rest, it is also the master jewelers who work there. Our jewelry repair experts are backed with years of experience in jewelry repair and restoration. This unmatchable expertise, coupled with the highest-quality equipment, allows Roman Jewelers to complete every repair at the highest caliber.

Roman Jewelers employs only the finest jewelers—true masters in the jewelry restoration industry who are ready and able to handle all your repair needs. Each jeweler is experienced in jewelry making, stone setting, polishing, and engraving. Whether you just need to solder a broken chain, remount a stone, polish a scratched necklace, resize a ring, or completely redesign a piece of jewelry, our jewelry repair shop can handle it all.

We recognize that convenience is important when it comes to jewelry repair; we value your time, and don't intend to waste it. Our state-of-the-art technology not only allows for higher- caliber repairs, it also allows us to do almost every jewelry repair on site.

Bring your jewelry in to be repaired by us. Make an appointment at our Bridgewater location today.