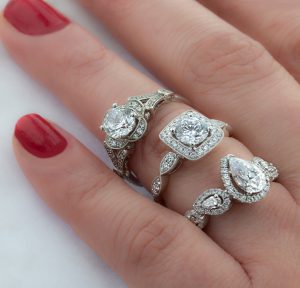 While the diamond ring remains a universal symbol of love and commitment, doing research on the 4Cs, and prices, and the endless searching and shopping certainly can take some fun (and romance) out of the experience. Roman Jewelers wants to make it easier for you to discover the diamond ring that best expresses your romance. Fresh, stylish, dynamic and diverse in design is what our store's engagement ring shoppers are looking for. And, they want to today's diamond ring styles to match their individual love story. This means looking for ring designs that can range from classic to modern minimalist to artisan-style to colorful and classic and everything in between.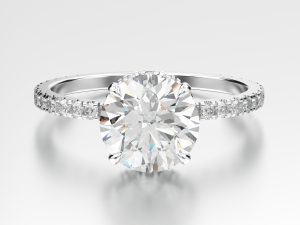 Classic Round Diamond in diamond ring setting by Roman Jewelers
The Best Classic Diamond Rings
A classic solitaire, pear-shaped or emerald cut ring on a simple band or flanked by side stones is a forever favorite. When you consider that you will likely wear this ring for decades to come, for some, it makes sense to stick with the classics. There's a reason the round diamond remains the top selling diamond for 50 years and counting.
Fancy Diamond Cut Rings
If you want a classic ring with a twist, a great option is to surround the central stone with fancy cut diamonds, such as hexagons, kite-shaped or shields. These unique diamond cuts create visual interest that can appear modern or even slightly edgy. As more brides look for unusual engagement ring styles, fancy cuts including heart-shaped or triangles are also being used as a central stone. This is a great option for showing your sense of individuality.
Modern Minimalist Diamond Rings

Modern minimalist look from Parade Simple, sleek diamond ring designs express a sense of relaxed, lived-in luxury. If your style leans modern, there are endless diamond ring choices, from understated designs to bold, graphic and streamlined. Here, the diamond is usually integrated into the design rather than the focal point. This is becoming more popular among brides who want diamond rings that suit their more casual lifestyle and modern sensibility.
Halo Set Diamond Rings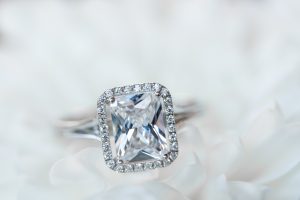 Cushion cut Ring in Halo setting by Roman Jewelers A halo engagement ring surrounds the central diamond with a swirl (or two) of smaller, pavé-set diamonds. A forever classic, the halo setting gives the illusion of a larger ring and provides the center stone with added protection against the knocks it is likely to receive throughout everyday wear. A further advantage of the halo setting is the extra sparkle that comes from the light dancing off the facets of all those smaller gemstones in addition to the central sparkler. The halo setting is used to complement many different diamond shapes, from round and oval to fancy cuts.
Artisan-Style Diamond Rings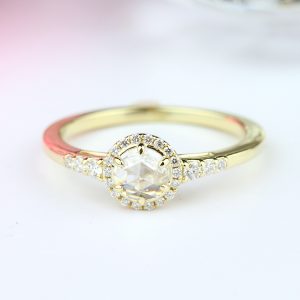 Rose cut ring from Parade An artisan-style engagement ring appeals to those brides in search of a ring with an understated, perfectly imperfect beauty. Whether it be through the texturing of the metal or ancient, hand-applied techniques such as granulation or filigree, an artisan-style ring bears the marks of the prideful hands of the goldsmith who put their heart, soul and countless hours at the workbench into its crafting. The antithesis of machine-made technology, these rings celebrate the uniqueness of every naturally beautiful diamond; its perfect imperfections are particularly suited to those seeking a rough diamond or rose cut.
East-West Diamond Rings
If you are looking for an engagement ring that will stand out from the rest, then an east-west setting could be your perfect match. The east-west style features a stone set horizontally—as opposed to vertically—on the band. The setting, ideal for a pear-shaped, marquise or emerald-cut diamond, has directional appeal for the contemporary bride, and also a timeless elegance for a more traditional happy forever after.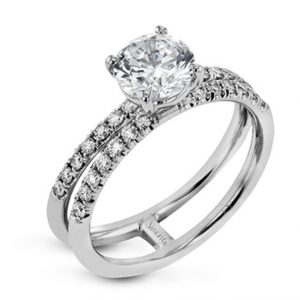 Ring set from Simon G
Bridal Diamond Ring Set
Once you have the engagement ring, then you need to select a wedding band that works with it. Choose to get creative or make it easy with a bridal ring set where both rings fit together like a puzzle. With endless possibilities available, an integrated engagement and wedding ring set that fits together perfectly can work for the everything-in-its-place bride, who seeks seamless perfection on their wedding finger as much as they do on their big day. It can also work for those seeking added drama: a jacket-style surrounding a smaller center stone gives the illusion of grander scale and can also provide a striking contrast in terms of stone cut, color and overall silhouette.
Vintage Diamond Rings – New or using an Heirloom Gem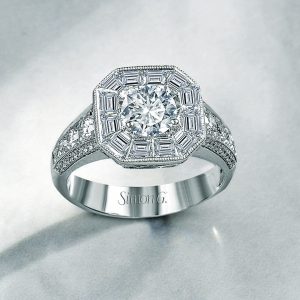 Vintage look from Simon G Vintage engagement ring styles offer endless varieties for those seeking something with character and old-world charm. Whether you choose a delicate Edwardian ring or a custom design with an old mine cut in the family, it is worth doing your research to pick your preferred style or work with a custom designer to create something new.
Diamond Eternity Bands
The classic eternity ring features diamonds set neatly in a never-ending circle of gold, a symbol of eternal love. A traditional style that has been remixed and reinvented by today's designers, over time the cut of the stones has evolved, linking together heart-shaped diamonds or stair-stepped baguettes. New styles feature wider bands set with a mosaic of diamonds or thread-thin bands with pavé diamonds. Once just a sidekick to the solitaire ring, the new eternity bands are strong enough to stand on their own.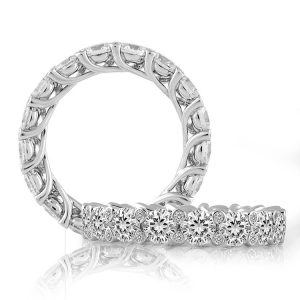 Eternity Band from A Jaffe
Art Deco-style Diamond Rings
As we celebrate the 100-year anniversary of the Art Deco movement, the style is more relevant than ever before. The flapper era brought us jewelry with cubist-inspired geometric lines, symmetrically clean designs and contrasting colors in a fresh mix of materials. It's a primary source of inspiration today for designers who have built upon its strong framework, revising and perfecting it, and making it their own. The results are timeless designs, based in history but with all the innovation of today.
Fancy Colored Diamond Rings
If you love the color pink, blue or yellow, look for a fancy-colored diamond ring—just be sure to keep in mind that any intense colored diamond is going to be more expensive than a colorless stone. The bonus is that colored diamonds are collectible and have proven to be a good investment. To stay within budget, look for smaller fancy colored diamonds, which are dainty and understated, or less intense colored diamonds. In addition to the precious pastel colors, there are more affordable black-, brown- and champagne-colored diamonds, which range from medieval to modern-looking. No matter what you decide, NJ agrees that the best place to choose your diamond, and your ring is at Roman Jewelers upcoming Million Dollar Bridal Event. April 10 – 25 at Roman Jewelers. Make an appointment. Special thank you to Natural Diamond Ring Council for help with this blog.