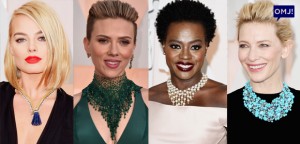 Who wore the statement necklace best at the Oscars?  Photo: JIC Last night's Oscars, as usual, provided lots of jewelry looks! Statement necklaces took home the win for the best and biggest jewelry trend at the star-studded event. Who wore it best? Statement necklaces with an added dash of bold color ruled the red carpet at last nights Oscars. Gemstone and pearl necklaces were stand outs, and and the looks varied from classic to more edgy. Who do you think work it best?
Focus star Margot Robbie accented her black ensemble with a  vintage zipper necklace featuring diamonds and sapphires set in 18K yellow gold (and the zipper is fully functional!)
Actress Scarlett Johansson clearly wasn't afraid of being too matchy-matchy with her all green look. She paired a dramatic emerald necklace with her emerald gown that was only further accentuated by her Piaget emerald, tourmaline, aquamarine and diamond ear cuff set.
How to Get Away with Murder Star Viola Davis chose a beautiful pearl and diamond bib statement necklace to add a sophisticated touch to her pale pink Zac Posen gown.
Actress Cate Blanchett let her bright bib statement necklace do all the talking. The turquoise and diamond piece popped against her black ensemble, making it one of the most standout jewels of the night.
We're looking forward to seeing statement necklaces remain as one of the biggest trends on the red carpet! - Thanks to the JIC. See more at: http://blog.jic.org/#sthash.7Vbh4Ssg.dpuf