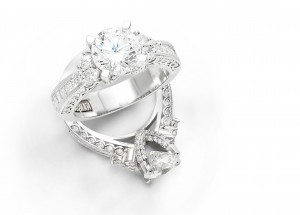 Engagement Ring Custom Designed by Roman Jewelers
Did you or your fiancé-to-be have the luck to receive an engagement ring from your grandmother or a diamond wedding band from a relative in your family? Heirloom pieces carry a lot of sentimental value, but may not look exactly the way you would like. Wouldn't it be wonderful to create a custom designed engagement ring with the existing center stone that you've received? Here is how to do it.by Anna Sacca
What's Your Style?
The first step in the process of customizing your engagement ring is discovering exactly what you like. Solitaire, pronged, and halo are just a few of the options. Keep in mind that any setting you choose can be made to fit to accommodate your center stone. Whether you have an emerald, oval, asscher, cushion, radiant, or heart-shaped diamond or a beautiful colored gemstone, you will need to find the perfect setting to display your stone.
Start by browsing for ideas online or download a jewelry app to your phone, such as the one from Simon G Jewelry. This app includes a "Try it On!" feature which allows you to upload a picture of your hand to see how different ring styles will look on your finger.  A window-shopping session at your local jewelry store will give you a hands-on experience that will really help you narrow down your search to discover exactly what you like. Remember this is a piece of jewelry you'll be wearing on your left hand for the rest of your life so it is important to get it right.
Set Up a Budget
You're in luck! Resetting a family stone to create a custom engagement ring isn't as expensive as purchasing a new ring. So don't stress too much about the old "two-month salary" standard to assess how much you should spend. A good jeweler will collaborate with you on the design and will use your stones and/or materials from your existing band to create the ring of your dreams while saving you money. Make sure to communicate your budget and vision clearly to your jeweler to ensure a happy ending in your ring shopping process.
Keep the Wedding Ring in Mind 
It's customary to wear engagement and wedding rings on the same finger so you may want discuss with your jeweler how your two rings will fit together.
Your jewelry designer will be able to sketch your dream rings to give you an idea of how they will fit together. Here at Roman Jewelers, we introduced a high-tech computer program that allows our customers to visualize their custom bridal jewelry.
If you're interested in working with us to create custom handmade jewelry, please visit our New Jersey locations in Flemington and Bridgewater and click here for more details: https://www.romanjewelers.com/page/custom-jewelry.html