June is pride month and Roman Jewelers is celebrating, because we love...LOVE

. All kinds of Love. When it comes to ring proposals we've seen some couples throw "traditions" out the window, and others that hold on to traditions and have always had the ring of their dreams in their minds. The good news is Roman Jewelers' BOGO wedding ring Event is designed to work for everyone.
DIAMONDS ARE A GIRLS BEST FRIEND
Yes, the saying is always relevant. Many same-sex ladies want the ring of their dreams..a diamond engagement ring and/or a diamond wedding band. Brides are choosing engagement rings in fancy shapes more frequently, as it seems to be a growing trend, but round diamonds are still the most popular. We've had couples add colored stones to the setting, as well. Bridal Diamond bands range from modest and modern to bold and luxurious and can accompany a band or be worn alone. Matching diamond bands can be a romantic touch, but again, every couple is different and they should choose what they will enjoy. When a couple purchases a ring during our BOGO event for $1,000, the second one is free up to $500, or that amount can be applied to the second ring.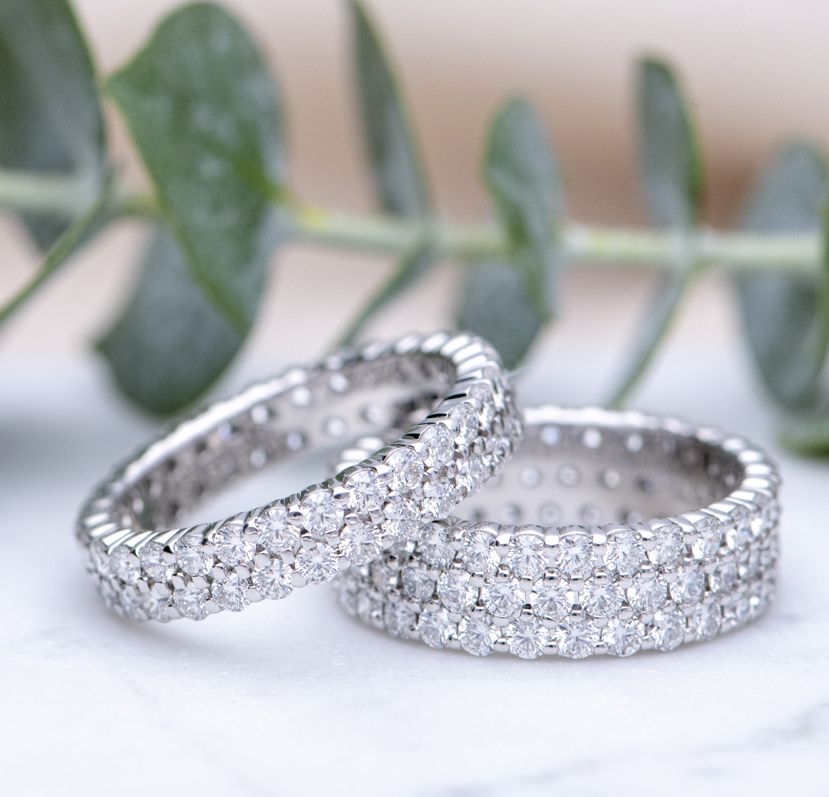 AN AMAZING VARIETY OF WEDDING BANDS FOR ALL
Diamonds are not just for the ladies, many men choose to have diamonds on their bands, too. It's all personal preference. There are so many choices in alternate gemstones and alternate metals including sapphires in any and all colors and metal options like Platinum, Platinum 600 (which adds an alloy), Mixed colored Gold, Titanium and more. A trend lately has been the "edgier" look of a black wedding ring. Black wedding rings can be made of titanium, black rhodium, as well as cobalt and more. For some, a black wedding ring can symbolize courage and strength. It's not just representative of physical strength, but strength of conviction, too. Therefore, it "says" something about the person wearing it. If you are not sure which wedding ring material or gemstones is right for you, speak to your sales representative, who will be more than happy to advise you on the type of wedding band that will suit your budget, your taste, and your lifestyle.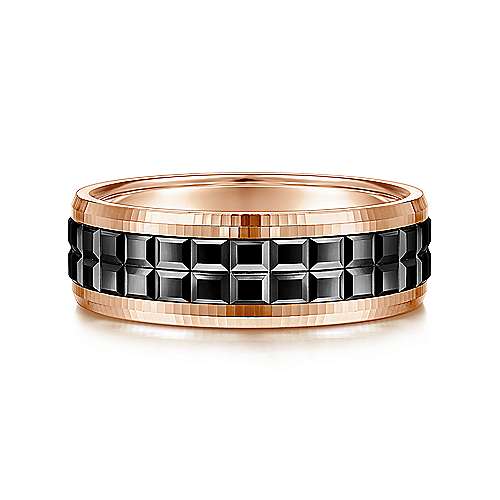 RAINBOW WEDDING RING COLLECTIONS
Pride, for some can be about recognizing the social significance and diversity of LGBTQIA+ marriages and relationships, so colored rainbow gemstones are always in style—and they are fun. Many do not know that sapphires come in all colors from pink and blue to purple and red and a favorite is to use them all in bridal jewelry bands or to choose a ring stack. Designers like Tacori, have handcrafted beautiful and bright sculpted crescent rings to fall in love with.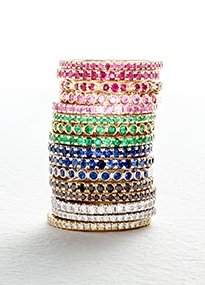 CUSTOM DESIGNED WEDDING RINGS
Roman Jewelers has been custom designing wedding rings for four generations, because for some couples it is more meaningful, or perhaps they are looking to incorporate elements from family jewelry or design something that speaks to their unique-love. Our custom designers can sit down with you and design a wedding ring as unique as your love and pretty much anything you could dream of. Note: Custom Design is excluded from the current BOGO Ring Promotion.
THE FINAL TOUCHES, AND OUR COMMITMENT TO LOVE


All couples put care and meaning into their ring proposals. Roman Jewelers is here to help with interest free financing, free engraving during the BOGO ring promotion and dedicated, open-minded sales consultants that care about you and your rings :). We invite you to learn more about our June BOGO Ring Event and make an appointment. We look forward to welcoming you.