Attendees of the Hunterdon Healthcare Fundraiser "Night Under the Stars" on October 27th at Hamilton Farms in Gladstone, NJ were told a personal story by Roman Jeweler's Co-owner, Sophie Shor. In addition to sharing her story about the care she receives at the Cardiac Rehabilitation Center, she also shared the custom designed "Share your Heart Pendant," with the crowd of 250. Her Hope: Raise money for the group that has become so important in her life.

The Share your Heart Pendant was donated that evening by Roman Jewelers and sold for $100.00, with 100% of the proceeds benefitting the organization. Attendees purchased 60 of the sterling silver pieces, raising $6,000 dollars just that night. Mrs. Shor expressed that evening that her "heart" was well cared for by the Cardiac Rehabilitation team and she wanted to thank them. She encouraged all to support them that evening and beyond.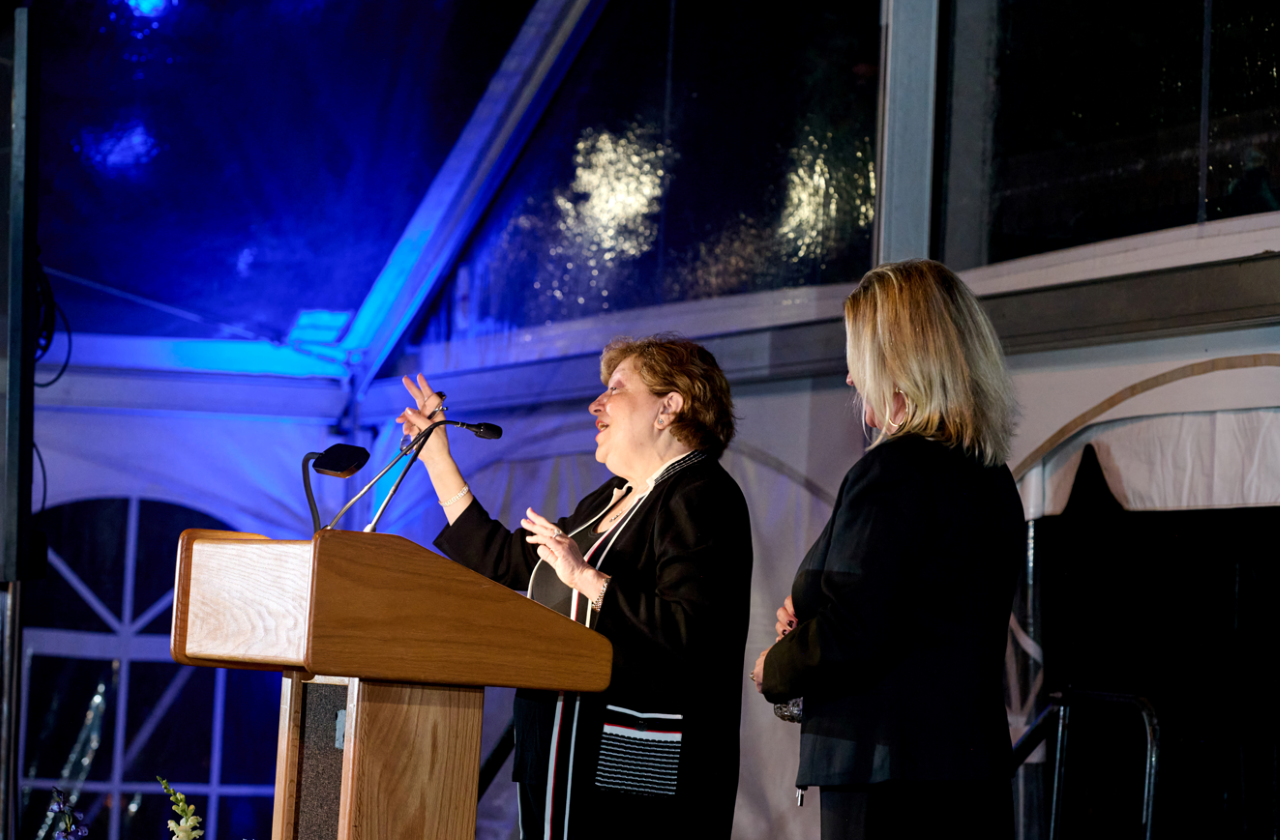 The pendant was created by Roman Jewelers', Co-owner and General manager, Lucy Zimmerman. She also happens to be Mrs. Shor's daughter. Ms. Zimmerman selected a heart shape for this exclusive creation because it is truly a symbol that is universally adored and can be given as a gift to celebrate an anniversary, birthday, graduation, or other special occasions. As a 4
th
Generation jewelry designer, Lucy was determined to craft a distinct piece, and after many designs, she was able to design a heart that was unique. Little did she know it was also so appropriate for her Mom to introduce that evening.
The Share your Heart Pendant will be available for sale at Hunterdon Healthcare's Hospital gift shop as well as at Yesterday's Treasures, the non-profit highend resale shop that helps support the Hunterdon Healthcare Foundation. It is located in Flemington at the corner of Route 31 and Sand Hill Road.
Robin VonOhlsen, Hunterdon Healthcare Foundation's Manager of Retail Services said that the shop sold a necklace on day one, adding,"Our supporters are always coming in looking fr a meaningful gift, like jewelry. This season, with the tiein to helping the cardiac rehabilitation center, the significance of a gift from our shop has double the impact. And the pendant is just beautiful...not to mention so well made."
For further information about purchasing a Share your Heart Pendant stop into Yesterday's Treasures: https://www.hunterdonhealthcare.org/service/wellness/yesterdays-treasures/
The pendant can also be purchased at Roman Jewelers in Bridgewater, NJ or on the store's website at https://www.romanjewelers.com/charity/wear-share-care/share-your-heart-pendant-rjws8976.html