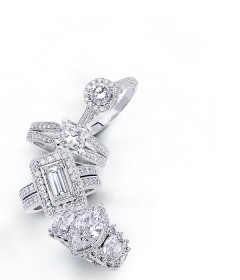 By: Lucy Zimmerman For me, there is nothing more enjoyable than designing new one-of-a-kind jewelry and creating new cooking recipes.  The love for original jewelry comes to me from my Dad, and for cooking from my Mom. Both, designing jewelry and cooking, usually start with inspiration. Sometimes, I walk into a supermarket, look at the row of bright colorful vegetables, and decide on making a wonderful vegetable stew, mixing the vegetables with spices and a little bit of butter. As for jewelry design, sometimes I see a stone that takes my breath away, and I imagine that stone in a one-of-a-kind ring.  Sometimes, it could be something as simple as a flower that makes me think of making a piece of jewelry. Whatever inspires you let your imagination run wild, and allow it to take you to places you haven't been before. Just to share with you, here is one of my recent designs. I was fascinated by the beauty of this blue tanzanite with just a hint of purple in it when I first saw it at a jewelry show in Las Vegas. I purchased the stone and made sketches for it, imagining it first in a pendant, and then finally deciding on a ring. As for cooking, here is my favorite recipe for Russian Blinis. My Mom taught me to make these delicious crepes when I was a little girl. I am happy to share it with you. Russian Blinis
Serve with sour cream, jelly, or sugar.  INGREDIENTS:
1 cup all-purpose flour
3 eggs
2 cup milk
1/2 teaspoon salt
1 teaspoon sugar
3 Tbsp vegetable oil
---
DIRECTIONS:
In a large mixing bowl, beat eggs, salt, and sugar, lightly. Gradually add one cup of milk and whisk together. Add flour and mix together. Gradually, add one more cup of milk. Stir to combine. Add the oil; beat until very smooth. You can add more milk if needed to make batter liquid. 
Heat a non-oiled griddle or frying pan over medium high heat. Pour the batter onto the griddle, using approximately 1/4 cup for each crepe. Tilt the pan with a circular motion so that the batter coats the surface evenly.  
Cook the crepe for about 1 minute, until the bottom is light brown. Loosen with a spatula, turn and cook the other side. Serve hot.