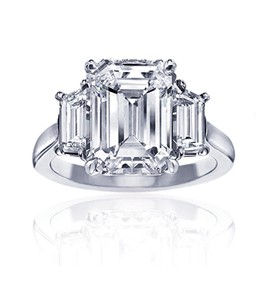 An engagement ring is one of the most important pieces of jewelry that a woman will wear in her lifetime. Because of that, shopping for an engagement ring can be extremely difficult; just how are you supposed to pick a piece of jewelry to represent an eternal love? Luckily, there are certain helpful facts that make the task of shopping for an engagement ring seem much less daunting.
Let's start with the diamond. Choosing a diamond is one of the hardest parts of choosing an engagement ring, because it requires the most consideration. One of the most common ways to evaluate the quality of a diamond is by looking at "
the 4 C's
": cut, color, clarity, and carat weight. It's important to note that, due to other factors, two diamonds graded equally along the 4 C's are not necessarily equal in quality or value. Still, the 4 C's are important to consider when generally determining what quality diamond you would like to purchase. Beyond the 4 C's, you must consider what shape of diamond you'd like to choose. Diamonds come in different shapes
—
round, princess, pear,
and oval shapes, as well as many others. It is important to choose a diamond shape that not only reflects the style of the wearer, but also complements the ring's setting and the wearer's hand.
Beyond the diamond, you must
choose a type
of precious metal for the setting of the engagement ring. There are many options when it comes to precious metals, and they come in a variety of different colors and prices. The preference of the wearer and price of the precious metal are of importance in this selection. However, one should also consider choosing a metal that
matches the skin tone of the wearer
.
The type of
setting, which is the method
by which an engagement ring's diamond is secured in the ring
,
is another component to consider when choosing an engagement ring. The most common type of ring setting is a prong setting in which
a
small, claw-like prongs grip the diamond to hold it in place. Other setting types include bezel, tension, pavé, halo, flush, and many
others, each with
its own unique look and attributes.
The most important thing to keep in mind when selecting an engagement ring is the woman who will be wearing it. Would your lady prefer a plain band or one studded with smaller jewels? Does she like more discrete or more extravagant jewelry
pieces
? Knowing and keeping the wearer's preferences in mind will make the process of finding the right engagement ring much easier, and you'll be sure to find her a ring she will love.
For more information on engagement rings, as well as assistance in shopping for one, make an appointment with Roman Jewelers today.
Make An Appointment