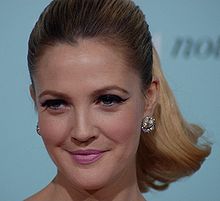 Jewelry Fashionistas look to Drew Barrymore Do you prefer the jewelry looks from the golden days of Hollywood or the new, forward-thinking jewelry fashions of the Trendsetter crowd? At the recent Golden Globe awards, viewers saw both. Sandra Bullock was the big star of the night, winning best actress in a drama for her role in
The Blind Side
(for which her character was quite a jewelry trend setter, too). Sandra wore a beautiful purple gown and paired it with gray diamond earrings, weighing 40 carets! Colored diamonds have been emerging in fashion more every year, with yellow fancy colored, champagne, and now gray. There was a time when these diamonds were considered unacceptable to even enter the market, but now, thanks to designers and fashion icons like Sandra Bullock, the exposure to the beauty of colored diamonds has grown and become appreciated. Drew Barrymore also went for a modern diamond look with 20-carat diamond stud earrings and a diamond and moonstone ring, 80 carats. She won the best actress award for the best movie or miniseries. On the other hand,
The Good Wife
star Julianna Margulies, who won for best actress in a television drama, went for a timeless, vintage look with pear-shaped diamond drop earrings; Nicole Kidman broke from the crowd with a 19th century diamond bow brooch, plus platinum bracelets with diamonds and emeralds; and newcomer Carey Mulligan (a best actress nominee for the film
An Education
) donned  3.5-carat, pear-shaped, old-mine-cut diamond drop earrings; a 19th century diamond riviere necklace with 20 carats of diamonds, which she opted to wear in her hair; a 19th century, pear-shaped diamond crown ring; and a 19th century diamond swallow cuff bracelet. You know the saying -- diamonds are still a girl's best friend no matter the color, shape or size. Another notable contribution Chloe Sevigny's marquis-shaped diamond ring in yellow gold! In a sea of white metal, the yellow gold stood out and made a beautiful statement. Marco Bicego is a designer with plenty of fashionable yellow gold designs and much more affordable prices. And let's not totally forget the men. Among them, jeweled cuff links abounded.
True Blood
actor Ryan Kwanten walked the red carpet in a pair of 7.65-carat natural rough diamond cuff links! For the men that like the look but don't want to mortgage their homes, cuff-link options especially from Scott Kay are affordable and fashionable and will make any guy more fashionable.