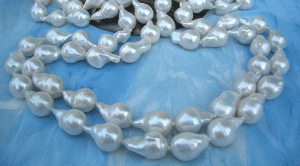 Do you remember the movie Forrest Gump? For those who do (and perhaps even those who have never seen it) you'll recall Forrest's iconic line: "Life is like a box of chocolates, you never know what you are going to get." I like to think of this line every time I look at pearls, because the same concept applies to them—you never know what you're going to get. Since pearls are created entirely by nature, they come in a variety of shapes and sizes. Similarly to opening a box of chocolates, when you open an oyster to find a pearl you never know what you're going to get. Often, you'll find a perfectly round pearl. But you'll also sometimes find a totally irregular pearl—one that's shaped unlike any other. These kinds of pearls are called Baroque pearls, and (in my opinion) are the most interesting type of pearl.
I'm the first to admit that I'm a complete perfectionist. I look for precision in everything I do-- in my everyday work, in the places that I visit, in nature, but most of all in jewelry. When it comes to jewelry design, I like clean lines and perfectly shaped jewels. But, interestingly enough, I am completely fascinated by imperfect Baroque pearls. Not only does their perfect imperfection look stunning in jewelry design, Baroque pearls also have a fascinating history and background.
Let's start with their name—baroque. Even the sound of the word evokes an image of something unique and extravagant. Where exactly does baroque come from? According to various dictionaries, the word originates either from French (where baroque means "irregular shape") or the Portuguese word barroco (meaning "irregular pearl"). In English the word "baroque" points to a style in music, architecture, and the arts (known as the Baroque Period) that existed in Europe from the early 17th century to the late 18th century. The period was known for featuring many decorative parts and details in its artwork and architecture. The baroque style was filled with creativity, new art forms, embellishments, and adventure. These elements are also present in Baroque pearl jewelry, making its name very fitting.
Today, the attraction of Baroque pearls lies in the very nature of their imperfection. The different shapes and sizes of baroque pearls makes them extremely intriguing and beautiful—not to mention unique—when put together. Baroque pearls allow for unleashed creativity and pure imagination in jewelry design. If you like jewelry that is unique and different, baroque pearl necklaces, rings, earrings, and bracelets are the choice for you!
As with any pearls, the most valuable baroque pearls come from the South Sea and Tahiti. Lucky for designers and jewelry lovers, a high percentage of the pearls harvested in these areas are baroque.
Akoya Pearls are the close cousins of South Sea and Tahitian pearls—similar in nature but smaller in size. Akoya pearls are saltwater pearls, and the name "Akoya" comes from the oyster that produces them. That oyster is known as the "akoya oyster"and is found and farmed mainly in Japan and China. Akoya pearls are frequently white or cream in color, with overtone colors of rose, silver, or cream.
The most valuable and cherished pearls are South Sea pearls. As the name implies, these pearls are found in the warm waters of the South Sea that surrounds Australia, Indonesia and the Philippines. These pearls are produced by the silver or golden lipped oyster, known as the Pinctada Maxima oyster. Both golden and white South Sea pearls are very rare.
Exotic black pearls (which come from the black lipped pearl oyster) are called Tahitian pearls. Like the name suggests, these pearls come from Tahiti, but also several other French Polynesian islands. Though they are often referred to as black pearls, their color can actually vary from light creamy white, to gray, to green, to iridescent peacock, to deep black. Tahitian pearls come in so many different shades and colors that matching them into a finished strand is an enormous task. Quite often, a jeweler has to go through thousands of loose Tahitian pearls to create a single strand.
Pearls can also come from freshwater lakes, rivers, and ponds. These pearls are logically called Freshwater Pearls. The majority of cultured freshwater pearls come from China, and (similar to Tahitian pearls) range in color from light shades like soft pink, lavender, peach, and white to dark shades like peacock and black.
Even though pearls are intended by nature to be perfectly round, the fact that they sometimes turn out irregular only allows for creativity and distinctiveness in jewelry making. In the world of jewelry-making, where uniformity and perfection are often strived for, Baroque pearls offer a unique take that is beautiful in its own right.
Even for someone like me, a perfectionist through and through, the individuality of Baroque pearls is highly appealing because it allows an appreciation for nature's imperfections. But don't let me sway you-- what do you think? Do you prefer perfectly round or imperfectly baroque pearls?
For more information on beautiful baroque pearls, or to inquire about purchasing your own pearl jewelry, make an appointment with Roman Jewelers today.