Whether you've been married for 10 years or about to celebrate your silver anniversary, it's a common reality that at some point many women want to update their original engagement ring. Maybe the ring given when getting engaged was not your dream ring or the budget back then was limited. Either way, trends change as well and some styles simply become too outdated. While you can choose to wait for some major event such as an important anniversary, birthday or some other momentous occasion to upgrade your ring, Roman Jewelers is hosting the Restyle, Reset, Renew Event September 23 - 30th, so the truth is, "just because" is as good a reason as any.

Women choose new settings for many reasons,perhaps because the current setting is too simple, or doesn't have diamonds, or the center stone is too small, so if you are ready to go "more" you have many options. Many women choose to keep their center stone for sentimental reasons, and there are so many beautiful options to consider when you're ready to reset your diamond.

Restyling a Solitaire--Halo and Diamond Bands
Many people have solitaire engagement rings, often by choice and sometimes because the plan was always to "do something else," down the road. That is why dressing up this style is often the most popular. As you can see to the left, the choices are endless. Halos often make the center diamond look much bigger than it really is and provides a completely new look. It is the most popular choice by far. But changing the band is equally as lovely and just as popular, especially for those who love their center stones. Choosing a band with diamonds never goes out of style and is a loved option by many.

Remount to a Three Stone Setting--1,2,3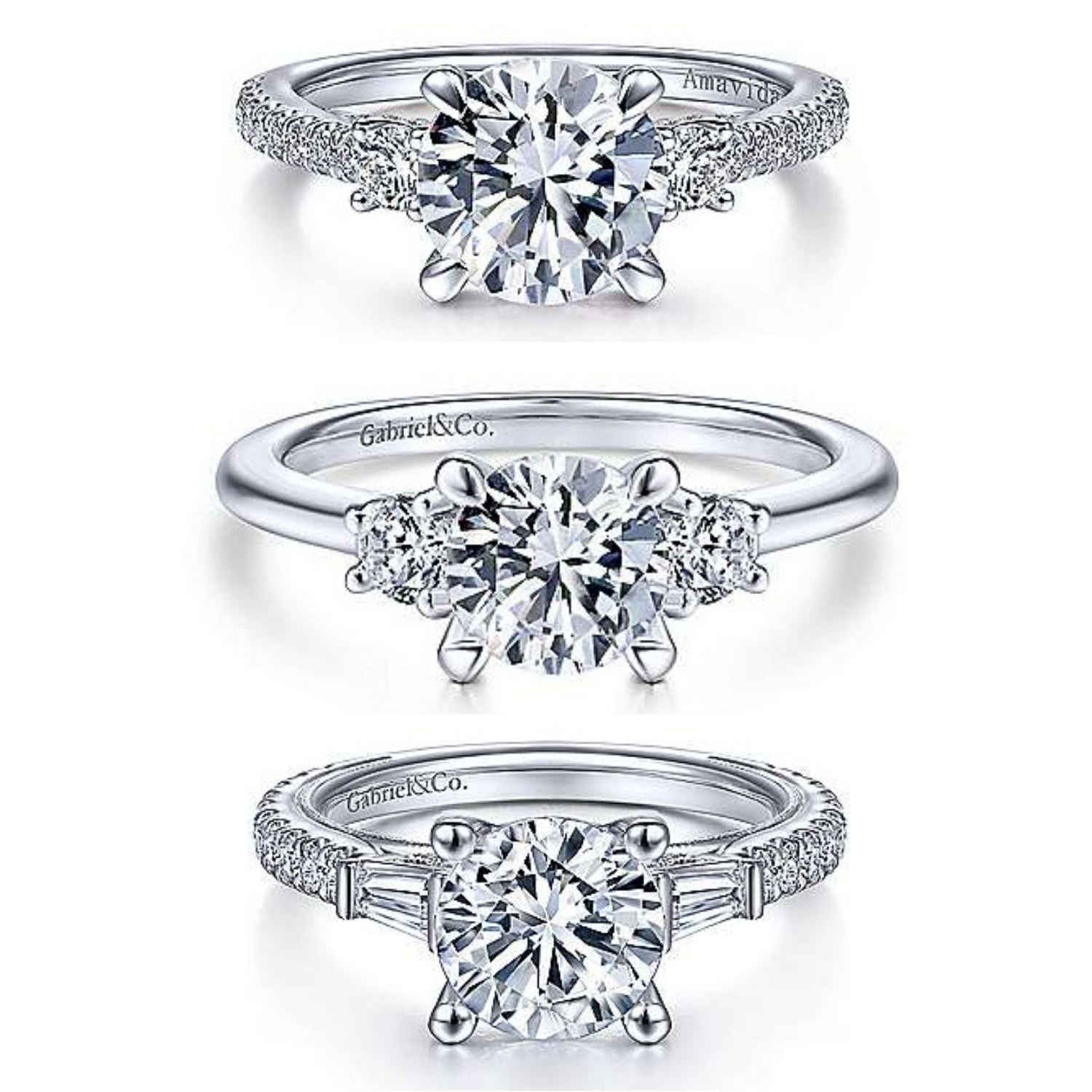 Three-Stone Settings have several meanings and loads of sentimental value. For some, it signifies the past, present and future or the center stone can symbolize your union as one, with the side stones symbolizing a child or a completion of your family. Three stone settings come in many different varieties with various side stone shapes. Here are some for a round center stone, though any other center stone shape would work beautifully:
Remount to a Big and Bold Setting
Marriages should be celebrated...especially those that have stood the test of time! Couples often celebrate with a bigger, bolder setting or they upgrade. It is a wonderful way to commemorate a bond that has lasted, through the good times and bad and everything in between.

Custom Design, One-of-a-king...just like your love


Roman Jewelers has been custom designing jewelry for four generations. Much of the custom work is in designing bridal jewelry, because sometimes, couples can't find exactly what they want in the store's cases. Or, they like elements from two or three different rings. Regardless of the reason, Roman Jeweler's custom design specialists will work to create a one-of-a-kind ring for a couple. Because only custom will do.

Customers will find it all at Roman Jewelers Restyle event. Additional inventory will be in the cases and there will be more settings than seen just about anywhere. In addition, Roman Jewelers is offering 20% off on most settings or on a custom designed piece. For ideas, take a look at the current offerings RING IDEAS
or learn more about the custom design process -- Click here
Appointments are encouraged for this event and can be made here: Make an Appointment