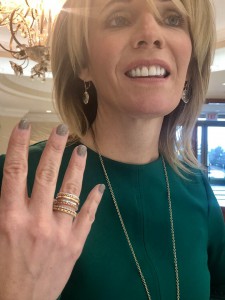 Sophie's Stackables were custom designed by Roman Jewelers to create the perfect stackable look
Layering has always been a fashionable trend and it is no longer limited to clothes! Layered jewelry looks are already very popular, and stackable rings has become the latest fun and simple trend that can complete and compliment any gal. Here are some suggestions for wearing stackable rings.
Thin and delicate stacking rings are fun and inexpensive and there are so many ways to have fun by stacking them all or even placing one ring on one finger—or one ring on 3 different fingers (or your thumb). Because the thin look is in, experiment a bit.

Mixing metals was once a jewelry faux pas, but some of today's best looks combine rose, white, and yellow metals.

 

The trick is to mix and match them so that they are balanced and interesting. This is also true with stackable.
Keep with a "certain" style. Don't be too matchy-matcy,

 

but try to stick to geometric or design looks that go together. Stick to one thickness so there's cohesion and try not to mix up too many different stone colors or other shapes or rings from different eras.

Keep the colors a bit uniform or neutral. Have fun, but you don't really want to look like a string of Holiday lights.

Make a statement with your stackable by not adding too much other jewelry. Earrings are okay, but stay away from another stacking concept—like necklaces or especially bracelets at the same time.

Stylish stacking is balanced—and right now it is finer and daintier. Move them around and see what works best.

Keep your nail polish simple. Neutral nail polish will make your stackable rings the stars of your hands. Metallic colored polish will also make your rings pop! But off colors like a bright orange or blue might look tacky.
Sophie's Stackables were custom designed by Roman Jewelers to be the perfect stackable ring, or to mix and match with some of your existing jewelry in gold, silver, or costume.  They also have a great story of their own. Read more here https://www.romanjewelers.com/sophiesstackables/