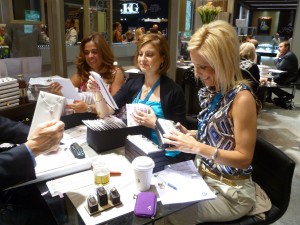 What happened in Vegas is not staying there this time! Our experienced, fashion-forward jewelry buyers are bringing all of their great finds back from the Vegas jewelry show and our cases will soon be stocked with the latest in jewelry and some new brands.
Anyone and everyone in the WORLD who is in the jewelry business were in Las Vegas last week! It is at the two Las Vegas shows where designers and manufacturers show all of their latest jewelry and where insiders talk and learn about new trends and what is going on in the business. The excitement never ends. So here are the top Roman Jewelers' takeaways from the Las Vegas JCK and Couture shows:
Turquoise is Everywhere
Beautiful
and
everywhere. Turquoise is perfect for the Summer and beyond. Turquoise has been an admired ornamental gem for thousands of yearsas a holy stone, a bringer of good fortune or a talisman. It really does have the right to be called a 'gemstone of the peoples' and it is found in many parts of the world including the Southwest of the US. We will have some soon!
Enamel & Roberto Coin
Enamel and yellow gold was a popular choice by many of the shows designers. At the Roberto Coin Salon at Couture, Roman Jewelers purchased from the Chic and Shine collection a beautiful necklace and matching cuff bracelet in off white enamel and yellow gold.
Silver & Scott Kay
Silver is a beloved and affordable metal that's popularity just keeps increasing. We've seen more silver and diamonds at this Vegas show than ever before. Scott Kay has added and expanded his line beyond belief with Silver and diamonds, but also so much more. The buyers from Roman Jewelers couldn't stop! Wait till you see what is coming back from Scott Kay right here to Flemington.
Pearls & Honora
Pearls just never go out of style. But to be able to do with pearls what Honora has done is truly remarkable. Honora uses freshwater pearls and creates current, affordable jewelry that is fashionable for all ages. Roman Jewelers in Flemington & Bridgewater is pleased to be adding Honora to the list of fine designers in our stores.
Drusy
Drusy is a little know (well, until now) tiny quartz crystal that forms on the surface of other stones. Found in all colors, drusy is colorful and bright and is the perfect stone for getting attention if set alone or as part of a design. Scott Kay and Honora both used it in their new jewelry, but Roman Jewelers predicts you will see it on many ladies this Summer and beyond. It is truly stunning and available soon at Roman Jewelers.
Warm Colors & Simon G.
Simon G. wowed the buyers at Roman Jewelers with a new, soft and warm look. Featuring designs from nature in a softer, earth-toned pallet, Simon G., is always a buyers favorite. Every year, Simon G. continues to evolve and impress our buyers as well as all industry buyers with fresh looks and quality beyond compare.
Cystal & Chamilia
It must be alot of hard work and dedication that keeps the designers and Chamilia going. They never cease to amaze or disappoint. Chamilia has a new collection of jewelry and charms coming out, including the sojourn collection. They have also made their partnership with Swarovski official and will continue to expand and develop that portion of their collection.