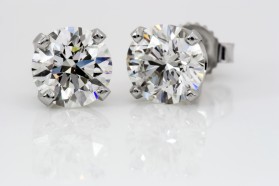 Mother's Day is on Sunday and we all know that Moms love jewelry. There are so many options in so many price ranges, making jewelry an easy, fun, personal and memorable Mother's Day gift. So, what to get Mom....
DIAMOND STUD EARRINGS Mom has been wanting these for quite some time and maybe this just the time to get them, especially if she has done something AMAZING like had her first child. Perhaps she has graduated from college, or maybe you have. Thank her with the ultimate Mother's Day gift, diamond stud earrings! CHAMILIA BRACELET The budget friendly and personal gift of a chamilia charm bracelet speaks directly to Mom and all she has done for you and your family. There are tons of beads to choose from, so finding the one that is perfect for her is simple...and simply beautiful. 
https://www.romanjewelers.com/Default.aspx?id=105
CIRCLE OF LIFE NECKLACE Available in many sizes, the Circle of Life Necklace is a heart warming and elegant choice for Mother's Day. The Italian designed Roberto Coin circle of life necklace will take her breath away. There are other options in Circle of Life designs, including earrings and rings. This is perfect way to thank her, because let's face it--where would you be without her? KEY PENDANT Key Pendants are a hot fashion item that Moms love and want! But, get her one that is beautiful, elegant and of high quality, like the ones at Roman Jewelers. The best way to tell mom that she'll always have the key to your heart is by showing her with a gift that she can wear every day of the year. JOHN HARDY Every fashionable Mom knows that when it comes to designer jewelry, John Hardy is must-have. Sterling Silver designs made at John Hardy's studio in Bali give every Mom a bit of nature. Designer, John Hardy, is truly inspired by the beauty he sees everyday. Mom will look beautiful wearing one of his unmistakable designs and she can wear John Hardy everyday--from the office to volunteering at the school and later in the evening for the fundraising event. This is only a small splash of what is available for Mom in jewelry fashion this Mother's Day. The reason jewelry makes the perfect gift is because it is so personal, making it something she will cherish forever.