Gemstones have long been coveted for their rarity, richness, magnificent color, and symbolic meanings. One such gem is the brilliant blue sapphire. Sapphires, particularly sapphire engagement rings, are a fundamental bonding element that weaves royal legacies. The link between monarchies and sapphires goes back to ancient history and continues right up until today. Given the rich royal tradition of gemstones and the desire to express one's elite stature and uniqueness, it's no wonder that so many brides-to-be choose sapphire engagement rings. Here's a look at the top 5 reasons why the royals prefer sapphire engagement rings.
1. Testament Of Motivation
For generations, sapphire engagement rings have been a cornerstone of royal family traditions across Europe. Queen Victoria, in particular, adored sapphires; therefore, Prince Albert purchased them on a regular basis for her. Queen Elizabeth, in fact, still wears a famous sapphire brooch passed down from Queen Victoria. Sapphires have long been used to ward off bad energies, calm the mind, increase intuition, and inspire spiritual clarity, so it's no surprise that the monarchy gravitated towards them. It is stated that by choosing rare gemstones to adorn their jewelry, royal figures have been able to stand out from the crowd by wearing sapphires that represent power, singularity, wisdom, compassion, empathy, and the conviction to accomplish things fearlessly and differently.
2. Ode To Their Mothers
According to a British historian, Lady Diana Spencer's sapphire engagement ring was neither the largest nor the most expensive she could have chosen. She just chose the ring since it resembled her mother's engagement ring. After her divorce from Prince Charles, she even wore the ring out of genuine adoration for its uniqueness. The sapphire engagement ring was so timeless that it was passed down to Prince William, who used it to propose to his wife, Kate Middleton – now the Duchess of Cambridge. While it certainly sets her apart from the rest. Prince William has long claimed that the ring would also serve as a constant reminder of his amazing and one-of-a-kind mother, making it the ideal way to honor her. Kate Middleton's now-iconic 12-carat Ceylon oval sapphire stands to represent power, strength, and an enduring family bond.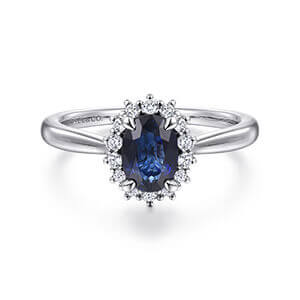 3. Embracing Antiques
Nature-inspired embellishments, wreaths, and laces were all expressed with a new lightness, and jewelry echoed the same. We're talking about the Edwardian era. Intricate craftsmanship became popular throughout this period, giving rings a light and delicate look. Katy Perry and Mary-Kate Olsen are well-known for wearing such classic designs while still with a contemporary touch. The 3-carat royal blue, oval, bezel-set sapphire ring with a floral motif worn by Penelope Cruz is no exception. Her nature-inspired ring has organic craftsmanship, and the bordering diamonds add to the allure. It is also believed to be from the Edwardian era, making it an excellent fit for the actress, who enjoys art and exquisite antiques.
4. Breaking Protocol
Anne, Princess Royal, has been married twice, and both of her engagement rings broke the royals' long followed diamond engagement ring tradition and the idea of remarrying. According to Max Stone, Steven Stone's head engagement ring specialist, "It's interesting that Princess Anne received sapphire engagement rings rather than traditional diamond rings. No doubt the princess still adorns this gem, and it is indeed a milestone in royal history. Blue sapphires are often linked to people who are respectful, loyal, hardworking, and honest, which only makes these rings even more special."
5. Rarer Than Diamonds
Another reason why royals value sapphires is their exclusivity, which matches that of diamonds. Princess Eugenie's sparkler, for example, is reported to be worth between £7,500 and £10,000. It has a massive Padparadscha Sapphire, a rare pink-hued stone encircled by diamonds. Padparadscha is the Sanskrit word for "lotus bloom." When the gemstone was found in Sri Lanka, it was given this name because its color resembled the region's peach-colored flowers – rare and ravishing! Now-husband Jack Brooksbank revealed that he chose the ring because it "changes color when it catches a certain light, much like Eugenie."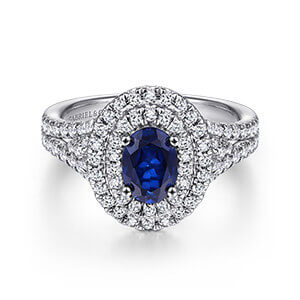 Sapphires are one of the most versatile gemstones. Everyone has sapphire, whether you love antique rings or extravagant halo styles. Visit Roman Jeweler's collection of rings from Gabriel and Co. to learn more about the designs mentioned above and to find a myriad of others that fit your idea of a flawless engagement ring!