A Ring from your Family's Past
What is the most emotionally valuable thing that you own? People often underestimate the emotional (or sentimental) value these items carry with them. However, it's often the items with sentimental value that we hold nearest and dearest to us throughout our lives.
One category of items that historically have had a high degree of sentimental value is jewelry. But not just any jewelry... Specifically, a heirloom engagement ring.
Heirloom engagement rings are usually passed passed down through generations of a family before ending up in your possession. It is an incredibly sentimental item and often has great value, both emotionally and financially.
If you've been lucky enough to inherit an heirloom engagement ring, you may be wondering what to do with it. Before you decide, learn about the true value of the heirloom rings.
The Story Behind your Family Engagement Ring
Some family rings may have gone through the same hardships as your distant relatives. If only these family pieces could speak! Wars, famines, and natural disasters, just to name a few of the chapters in the story your family's ring might tell. And through all the hardships and all the obstacles... it finally ended up in your possession.
This presents a very special moment for you. You are in an invaluable position to be able to honor, respect, and celebrate this diamond engagement ring and, to a larger extent, your ancestors that worked, sacrificed, and (in some heartbreaking cases) even died to be able to have this piece of jewelry passed down to their next generation.
Your heirloom ring might be financially similar to the ring you might buy today, but when you consider the additional sentimental value, suddenly your ring is now priceless in value.
With such an invaluable item in your possession, what are your options of what you can do with the engagement ring and/or the diamond in it? Fortunately, you have many options at your disposal and no choice is the "wrong" choice. It all comes down to erence and creativity.
The True Value of the Family Engagement Ring
Let's assume, for the sake of our discussion here, that you inherited an engagement ring set in platinum, with a center diamond surrounded by a diamond halo. Now that you have this lovely ring and the stunning diamond in the center of the ring… what is your next step?
There is something intrinsically magical about a family ring and the diamond that the ring carries. The beauty and brilliance of the diamond are only eclipsed by the rich history that lives within each of those diamonds in the ring. Each diamond is a new chapter that the diamonds took to finally end up with your family and, ultimately, with you.
There are many reasons why you may want to repurpose an heirloom piece of jewelry. Whatever your reasons, there are a few things to keep in mind if you decide to repurpose your family heirloom. Perhaps, the style of the ring is no longer your taste, or maybe you want to incorporate diamonds from the ring into a new piece of jewelry. So, when we talk about repurposing a family ring, what we are talking about is taking the incredible story of that family ring and giving it a new life. Heirloom engagement rings carry stories that you have the honor to preserve and highlight. While repurposing the inherited heirloom engagement ring, you will keep your family story alive while also creating something new and beautiful that you can enjoy for years to come.
Later in this article we will talk about some specific ideas of how you can repurpose your family engagement ring and its diamonds.
Step-by-step, let's go over your journey in repurposing your family ring.
Find the Right Jewelry Store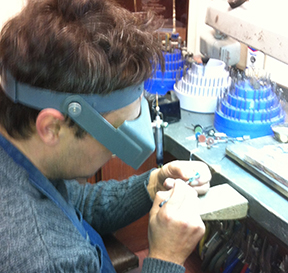 You will want to make sure you are working with a qualified, jewelry store and a professional jeweler. The right jeweler has the experience and expertise to help you create a piece of jewelry that not only looks amazing but will also stand the test of time. A knowledgeable jeweler will guide and advise you on your journey of either making changes to your family heirloom engagement ring or completely redesigning it into a new piece of jewelry.
If you are interested to learn more about Roman Jewelers' master jewelers and designers, click here Meet the jewelers and designers ready to work on your custom pieces.
Have the Ring Professionally Appraised and Diamonds Graded
Get the family heirloom ring appraised. This will help you to learn the financial value of the ring as well as give you a better idea of what type of setting and piece of jewelry would best suit your needs.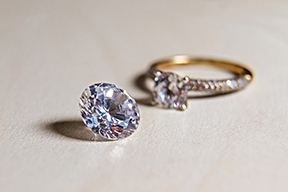 You might ask the appraiser to separately appraise the family center diamond in the heirloom engagement ring, especially if the diamond has not been graded before or if there is no appraisal that you can locate. Understanding what you have will greatly help you in where you ultimately want to go with your heirloom ring.
Have the Diamond Checked for Chips and Damage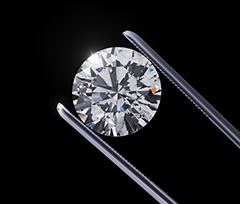 You need to learn all the small details about your family heirloom. The more information you have, the easier it will be for you and your jeweler to work with the existing ring. Why is that important? Because you might decide to replace the chipped or damaged diamonds with new diamonds that would match the rest of the diamonds in the setting in size, color, and clarity.
Deciding What to Do with the Heirloom Engagement Ring and/or the Center Diamond
Let's dive in a little deeper and discuss options and ideas of how you can use your family ring. The great news is that you can do anything, from a custom engagement ring to maybe even an entirely new piece of custom jewelry.
Let's talk about the "what" (as in, what to do with a family ring) and the "why" (as in why would you want to do anything with that family ring). What is all the fuss about the inherited engagement ring or the family diamond in it? Is a family diamond any more valuable than a diamond of the same carat weight, cut, clarity, and color as a diamond you could go out and buy today? The answer to that question is not as black and white as you might think. Learn more about the value and quality of diamonds
Whether you decide to remove the center diamond from its setting and create a new, custom engagement ring or repurpose it into another piece of custom jewelry, here are a few ideas of what you can do with your family heirloom. From doing nothing with the ring and wearing it as is, to creating a custom designed piece of jewelry.
Do Absolutely Nothing!
Let's start with not to changing anything in the family engagement ring. This might sound like a cop-out but, sometimes, the best thing you can do is to leave beautiful things as they are. If your family diamond is in good condition and you are happy with the way the ring looks, then there is no reason to change a thing! Just wear the engagement ring as is and enjoy! Or save the engagement ring for your next custom jewelry endeavor if that would suit and serve you better.
Reset the Diamond into a New Setting
One option is to reset the center diamond from your family diamond engagement ring into a new setting. This is a great way to update an old, damaged, or dated setting. Or perhaps you do not like the setting style. By resetting the diamond into a new setting, you will keep the tradition of wearing an engagement ring alive.
Perhaps, you prefer a setting to be in white gold to the one in yellow gold. You can keep the central round-cut diamond but instead of a halo, you can use those smaller diamonds to pave the band.
Design a New Custom, one-of-a-kind Engagement Ring or a Pendant, a Pair of Earrings or, Perhaps, a Cocktail Ring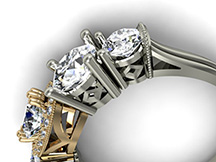 This is probably the most popular option as it allows you to keep the tradition of the family engagement ring alive while also creating something unique and tailor-made for you. Take the round-cut diamond in all its brilliance and use it as the nucleus of a brand-new engagement ring. Change anything from the setting to the metals and everything in-between but as it stands, you know you have your diamond shining with a beautiful history.
Now you are ready to create something stunning and, at the same time, nostalgic, I'm going to present a few ideas for you to hopefully spark some inspiration as you read.
Keep in mind that, because this is all preference and individual taste, there is no wrong answer! Consult with your jeweler, talk about what inspires you and let your imagination run wild! The sky is truly the limit when it comes to what can be done, design-wise. But before you start working with your jeweler on designing that special one-of-a-kind piece of jewelry, please download and read this e-guide titled Custom Jewelry Guide by Roman Jewelers. Free guide to Custom Jewelry Design.
Now it's time to get really creative! One thing's for sure. Your family will be happy to keep the heirloom piece of jewelry in the family, and for the family engagement ring to continue its journey.
In my previous example, we have taken our engagement ring and changed it...into another engagement ring. But what if we broke outside that box and instead, created multiple pieces of jewelry from our initial family engagement ring and the center diamond?
The smaller diamonds that once served as a halo around the round-cut diamond can serve many purposes to give you even more flexibility. You have the option to get creative with your jeweler to incorporate them into your new pair of gold earrings. You can create a custom one-of-a-kind piece of jewelry such as a necklace, bracelet, or a cocktail ring. You'll be repurposing everything in your family engagement ring: the metal, the center diamond, and the small diamonds in the halo surrounding the center stone.
As you can see, there are a multitude of options when it comes to what you can do with an inherited diamond or a piece of heirloom jewelry. And, regardless of repurposing, your one piece of family jewelry into one, two, or even three custom jewelry items, one constant needs to remain at the forefront of your mind...the diamonds.
The diamonds in your family jewelry are what makes the piece so special and unique. After all, diamonds are not only incredibly rare but they are also incredibly beautiful. They have been used throughout history to signify love, power, and status. So, when you are thinking about repurposing your family's diamonds, make sure you are doing it in a way that is not only creative but also respectful to the diamonds and their history.
Determine what Metals you would like to Use
This is determined, largely, by what piece of jewelry you intend to craft. A plethora of possibilities is at your fingertips as there will always be a precious metal to accompany and complement the design. 14K or 18K gold in white, yellow or pink colors. Or maybe platinum? Possibly a combination of different metals?
To Sum Up...
I hope this article has given you some ideas of what you can do with your family heirloom engagement ring. Whether you decide to reset the diamond, create a new piece of jewelry, or simply leave it as is, the most important thing is that you are happy.
I don't want you to think for a second that you are doing a disservice to the family jewelry by repurposing it in some fashion. By doing that, you are taking a precious diamond engagement ring that has been in your family for years and giving it a new life for generations to come.
Follow your heart and you will be overjoyed with the outcome. Think of the journey your family diamond or engagement ring took to end up in your possession and the result will be something that shows respect and love for those who came before you.
Honor the past and we help pave our way to a better future.
Contact Us.
If you've inherited a family heirloom and are interested in a consultation to decide what to do with it, please contact us at Roman Jewelers, 500 Commons Way, Bridgewater, NJ.