How to Select the Right Wedding Band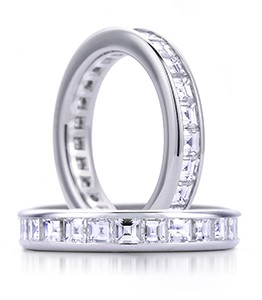 Selecting a wedding band that will complement your engagement ring perfectly is no easy task. Because engagement rings are such complex pieces on their own, finding a matching wedding band can be quite complicated.

Wedding bands come in a variety of different styles. Because of this, there are many different options to consider when choosing one. Do you want stones? If so, how many? And how should the stones be arranged? What type of stones should they be? If they're diamonds, what shape/cut/clarity/color/carat weight should they be? These are just a few of many questions to consider when picking out a wedding band.

No matter what you ultimately choose, there is one golden rule to remember when choosing a wedding band: wedding bands and engagement rings must complement, rather than compete with, one another. This is a pretty general rule, so let's take a closer look into what having a complementary wedding band and engagement ring really means.
The first thing to look for while matching a wedding band to an engagement ring is the contour or the shape of the shank of the engagement ring. It is especially important to pay attention to the contours if you're looking for your engagement and wedding ring to sit flush, that is, fit together perfectly. Most engagement rings are made so that they can easily sit flush on a straight wedding band. However, sometimes this is not the case and a contoured or notched wedding band is necessary to fit together nicely with an engagement ring. If you prefer for your engagement ring and wedding band to sit together stacked, as many customers do, it is still important to consider the shape of both rings to ensure they sit together nicely.
The next, and perhaps most important, consideration in finding a complementary wedding band is how elaborate your engagement ring is. If your engagement ring is more discrete and simple in diamond size/amount, then a more elaborate, stone-studded wedding band might balance out the pairing nicely. Conversely, if your engagement ring is extremely complex, a simpler wedding band might be your best choice. Of course, if your wedding band and engagement ring both have diamonds, it is important that the diamonds in both are of the same quality.
The choice of precious metal and overall style of a wedding band is more open to personal preference. Some customers prefer plain gold wedding bands while others prefer platinum; certain people prefer extremely thin wedding bands, while others like theirs to be wider. No matter which style and metal you choose for your wedding band - and the options are numerous, it is important to keep the style of your engagement ring in mind. Our best advice is to choose the wedding band that will not steal attention from your engagement ring. Again, the most important goal is for these two rings to complement each other's beauty and not compete with each other for attention.
For more information on how to match a wedding band to an engagement ring, stop by Roman Jewelers today.
Text us for an Appointment