7 Reasons We Love Repairing Jewelry
Taking good care of your jewelry helps to keep it looking its best, but even well-cared-for pieces can eventually need some repair. It could be a loose stone, a snapped chain, earrings that lost a post, bracelets with broken hinges or a bracelet that might be too tight or too loose, bent rings, or, perhaps, a necklace with missing diamonds, jewelry repair can sometimes be necessary.
At Roman Jewelers, we love beautiful jewelry, everything that shines, sparkles, and glows. We also love jewelry that our customers bring to us for repair; jewelry that might be broken, with sometimes missing stones, and with all the shine of the metal long gone. As a retail jewelry store, jewelry repair is one of the services we have always provided, something we do daily, and ... something we truly enjoy doing!

Let me tell you why.
Reason #1. We Love to Hear a WOW!
When we repair jewelry, no matter what the condition of jewelry you bring in for repair is, we love making it look brand-new again. Once the repair work is completed, the piece goes through a strict quality control inspection, and the piece is wrapped into tissue paper to prevent scratching.

When you come to pick up the piece, we carefully open the tissue paper to present the finished product to you, and... "Wow, it looks brand-new! Thank you for giving it a new life!" That is what we hear every time you see the piece that has just been repaired in our shop. That "wow!" is the biggest compliment and reward for us for the work we put into each piece.
Reason #2. We feel like Artists
Similar to a snowflake, no two pieces of jewelry brought for repair are ever alike. Some repairs are simple, like sizing a plain wedding band. Some are more complicated, like fixing a hollow gold bangle, while some are true challenges.
When we do our repair work, we often have to custom design and fabricate new parts for the jewelry piece. Some repairs can be quite challenging! This is where our creativity, artistry, and technical skills come together. We use the same techniques that are used in creating new jewelry pieces from scratch (well, almost). We feel like artists when we do our repairs. Our goal is always the same; when the repair is done, no matter the complexity of the repair, the jewelry needs to look brand-new again.
Quite often, our customers think that creating custom jewelry is more difficult than repairing jewelry. After all, custom jewelry work needs to start from scratch. With repairs, the jeweler is working on the existing piece of jewelry. Yes, this is true! Except that some repairs are more intricate and complex than creating custom jewelry. Every jewelry designer will tell you that!
Reason #3. We Love a Good Challenge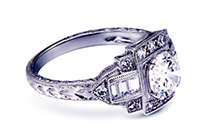 We do all kinds of repairs in our store, from the most delicate work on vintage and antique jewelry to the hardest repair jobs. We have seen (and repaired) it all, so we're never afraid of a challenge. No matter what is wrong with your ring, necklace, or a pair of earrings, we will take a look at it, give you an estimate of the repair cost and time, and get to work. We love a good challenge!
We look at every piece of jewelry that comes into our shop for repair is a new challenge for us. Whether it's a simple ring sizing or a more complex repair, like restoring an antique piece of jewelry, we love finding the best way to fix each piece and make it look its best.
Let me give you an example.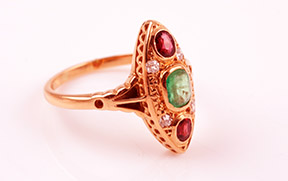 A Sentimental Ring Passed Down from many Generations
A couple of months ago, a customer of ours, Nancy D., brought in an old red gold ring that belonged to her great grandmother. Looking at the ring and the stamping on the inside, we determined that the ring was originally made in Europe, probably, at the beginning of the 20th century. The ring was passed down to the next generation of women in the family, then to the next. By the time the ring reached Nancy, it was in very bad shape. Normally, for a ring that needed so much restorative repair work, we would recommend resetting the diamonds into a new setting. But we knew the sentimental value of this ring to Nancy and her family. We had no other choice but to repair the ring, and while doing that to keep as much of the original piece as possible.
The first challenge was to come up with a red-gold solder that is not typically used in jewelry repair today. White, yellow, and even pink gold solders are readily available. But not red solder! Matching the color of the red gold ring with the color of solder was imperative to successfully repairing the ring. And so the challenge started. To match the color of the solder, we had to add more copper to the solder while, at the same time, reducing the amount of silver. Many, many experiments later, the colors were identical, and the work began.
In the end, when the ring restoration was completed, Nancy and her family were delighted. The ring was ready to serve many more generations of women in their families.
Reason #4. We Take Pride in our Work
We take pride in every piece of jewelry we work on. We understand that your jewelry is often a sentimental piece that might have been passed down to you from a family member, or that it might be a gift from a loved one.
Sometimes, what needs to be done is as simple as chain soldering in the spot where it is broken. Or it could be a very simple wedding ring polishing. Sometimes, however, we come across work as complicated as a restoration of an antique piece of jewelry. Our services and our master jewelers take pride in doing both; the very simple and the very complicated work.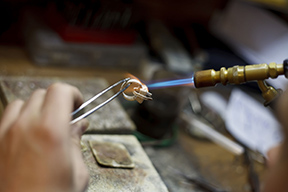 Ring sizing
Let's take a look at what goes into a process that looks pretty simple at the first glance; ring sizing. If you've recently purchased a ring, or if you've had one for a while and it's started to feel too loose or too tight, you may need to have it sized.
Here are the steps that the jeweler will take to size your ring.
Finding your finger size
Do you know that it's best to have your fingers sized when they are at their warmest? Cold weather can cause your fingers to shrink, so sizing your fingers when they are cold may result in a ring that is too loose when finished.
How is your finger size is measured? By using the ring sizers. You will try different sizes until you find the one that fits properly. Taking an accurate measurement of your finger to determine your ring size is the starting point of a successful ring sizing. Sometimes, one ring size is too tight, but the next one is too big. What does that mean? That means that your proper ring size is somewhere between these last two sizes and needs to be a half size bigger than the one that felt slightly tight on your finger.
Determining if the Ring can be Sized
Sizing a ring up or down by more than two sizes may weaken the setting and make it more likely to shatter. If there are other stones set in in the shank, the stones might start falling out.
Some materials - such as tungsten carbide - cannot be resized at all.
The Sizing Process
When you get a ring sized, a jeweler will add or remove a small amount of metal from the band to adjust the fit. Your ring size needs to be equal to the ring size measurement.
Yes, sizing a ring is not a complex repair job, but even that job, if not done correctly, can cause significant damage to an existing ring. To learm more about ring sizing, please follow this link
Rings Sizing.
Polishing your Ring to Perfection
Polishing is the last step the jeweler takes before completing the job. And not just polishing, but polishing it to perfection!
We will skillfully size your ring. We take pride in our work!
Reason # 5. Jewelry Repair is Perfect for Perfectionists
Most jewelers are perfectionists. Frankly, it's hard not to be! They must be able to take a piece of jewelry that is broken, or scratched, with perhaps loose or missing stones and make it look brand-new again. We like to laugh saying that the jewelry industry might have the highest number of perfectionists of any other industry.
Many times, we look at a piece of jewelry questioning if it could be repaired. Jewelers that are truly skilled masters of their trade love to work on these types of jewelry. The worse the piece of jewelry looks before the first cut is made or the first solder is applied, the more the jewelers love it! For master jewelers, to take an imperfect and make it look perfect again, is what elevates their skills to a higher level.
Matching a Missing Diamond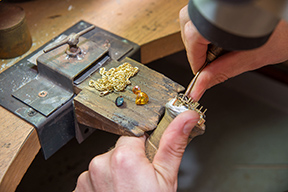 Sometimes, I observe jewelers in the process of matching a missing diamond in a piece of jewelry they are repairing. A small diamond is picked up with a tweezer and carefully moved to the spot where a missing stone used to be set. Is the color of the new diamond the same as the rest of the diamonds in a setting? What about the clarity? Or size? Is the diamond cut in the same manner as the rest of the diamonds in the piece?

It takes so much time and effort to match the diamonds. But for a master jeweler, the time invested in matching the diamonds is all worth it! It is a perfect match, leading to a perfect repair! To a master jeweler, the jewelry repair process is simply giving new life to a piece of jewelry! To delight the owner of that piece of jewelry for many years to come. to learn more about matching and replacing missing stones, please follow this link
Replacing missing stones.
Reason #6. Composing a State-of-the-art Repair Shop
Jewelry repair requires top-notch skills from a master jeweler. It also requires state-of-the-art jewelry repair equipment and tools. The best craftsman would not be able to perform complicated repairs with top quality and precision without proper tools.
For the myriad of repairs that the jeweler encounters, the jeweler needs various tools and supplies. Whether fabricating a piece of custom jewelry from scratch or repairing existing pieces, a jewelry repair shop needs, at a minimum, a torch, a ring sizer, cutting supplies, soldering equipment, ultrasonics, steamers, and so much more. The list is very, very long.
Every time that we think that our repair shop is finally totally equipped, a new challenging repair may come in requiring a tool that we might not have. The jewelers love working on these complex pieces of jewelry, and we are proud to say that our jewelry repair shop is fully equipped... until, perhaps, a new challenging repair presents itself that may need additional tools. To learn more about our state-of-the-art repair shop please follow this link
Jewelry Repair Shop at Roman Jewelers.
Reason #7. Making you Feel Delighted!
We are convinced that jewelry possesses the magical powers of making us feel better! That brand-new piece of jewelry that you just put on your finger, your ears, your neck, or your wrist make you feel different, happy, excited, or simply beautiful.These pieces of jewelry speak to us, and they make us look and feel great!
The worst thing that you can do with your jewelry is to leave the pieces in a bank safety deposit box or just keep them in your jewelry box. If you are not wearing your jewelry because you are afraid to break or scratch them, stop worrying and start enjoying it! Wear and enjoy every piece of jewelry that was either given to you with love or that you bought for yourself!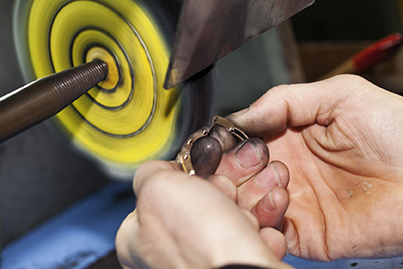 If your jewelry gets scratched and the metal loses its luster, do not worry. A good professional polish and... all the shine will come back. Jewelers use special tools and materials for jewelry repair. There are special polishing machines, tumblers, ultrasonics, and steamers. An experienced jeweler will carefully polish off all the scratches and will bring the shine back to your favorite jewelry.
If the prongs break and need to be replaced or fixed, the jeweler will gladly do that too. Repairing and replacing prongs is something that jewelers do quite often. Platinum is a much stronger metal than gold and does not wear off as fast. Regardless of the metal, worn-out prongs get either repaired or, if worn out significantly, replaced. Once this is done, all your precious stones are now securely held in their place.
To Summarize
We hope you enjoyed reading about the reasons why we, at Roman Jewelers, love jewelry repair! We are passionate about what we do and take great pride in our work. We are always here to help you with any of your jewelry repair needs and look forward to making you a lifelong customer! Thank you for your continued support! You can always find us at 500 Commons Way, Bridgewater, NJ. We'll be happy to see you! To learn more about jewelry repair at Roman Jewelers please follow this link
Jewelry Repair at Roman Jewelers.