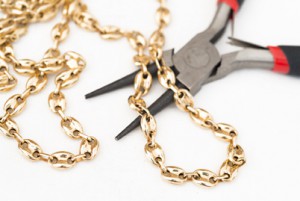 It sounds so simple; all you need is for us to solder your broken bracelet, necklace, or chain. Still, even a repair as simple as this requires knowledge and skill.

Jewelry repair that requires soldering must be done in a way that makes an item's broken spot undetectable when finished. The repaired area has to have the same color, luster, and appearance as the rest of the piece, with no tool marks or visible seams. The chain's width and depth at the location of the repair must also be the same as the rest of the original piece.

These are only a few of many important considerations a jeweler must make in the soldering process. A jeweler must be extremely experienced even to do this simple type of repair work. Our expert jewelers give even simple repairs, like soldering, the attention and care they deserve. No matter how small the task, Roman Jewelers makes sure to repair your jewelry right.