Setting Diamonds And Gemstones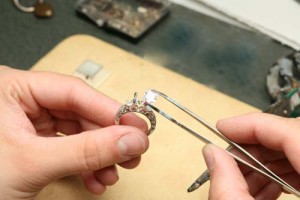 Did you know that, for a stone that is set in a prong setting, there should be 33% to 50% contact between the top of the prong and the crown of the stone? Or, that each prong must have an angle cut into it to accommodate and conform to the stone's shape?
These facts give only a little insight into how complex the stone setting process can be. A jeweler must have a wide range of knowledge and expertise in order to set a stone securely and beautifully.
There is a wide variety of methods that may be used when setting stones. Aside from classic prong setting, there are also more complex types of stone setting, like bezel, pave, and channel. Additionally, there are techniques that must be used when setting different types of stones. For example, colored stones (like tanzanite, opals, and emeralds) are softer types of gems, and can be easily chipped or broken while being set. As such, they require especially great skill and care during the setting process. Selecting the right stone setting type, metal, and using the correct techniques are crucial in successfully putting a stone into a piece of jewelry.
Here at Roman Jewelers, we understand how to set diamonds and gemstones so that they are securely set and elegantly displayed. Our craftsmen have the experience and knowledge to set your stones the way they should be set. So, for all of your stone-setting needs, make an appointment with the people who do it best. Make an appointment with Roman Jewelers.